Hi! I'm Tammy Lee
Founder of GO FIT LIFE

Middle-aged people come to me when they are ready to create a sensible and sustainable active healthy lifestyle. I provide a holistic and enjoyable common sense approach that's adaptable to the ebb and flow of your life.

My areas of expertise: endurance sports coaching; increasing and maintaining muscle, strength and mobility; sustainable weight loss and maintenance; wellness coaching for women of mature age (and going through menopause); habit development for a higher quality of living and longevity.
Tammy has been such a positive influence and role model in my life. I felt I needed a jump start to full-body fitness, and was looking to develop and re-establish good, healthy habits that are sustainable and realistic. I couldn't have found a better match! Tammy is no-nonsense, encouraging, and honest. Her honesty has helped me to be realistic about my goals while pushing myself to my own limits. The entire time I've been with Tammy, she has made it clear that this journey is about me; she shares her knowledge and it is up to me to be accountable. Thanks, Tammy!
I purchased your TrainingPeaks duathlon training plan to prepare for my 1st duathlon and followed your plan with precision. This morning, I completed a sprint duathlon in St. George Utah and won my age group and took 3rd place out of all 55 participants. I was pleased to be able to podium my first one. My goal was to finish the event in 55 minutes. I ended up with a time of 54:53. It was a 1.5 mile run, 10.5 bike ride, and 1.5 mile run. I contribute my success to a very good plan, especially this being my first one. Following your plan with precision served me well. Thank you for your contribution to my success today.
Tammy has not only extensive industry knowledge and training but her videos, meal prep guides and recipe books provide extra support to increase my knowledge and help educate me. And the groups are supportive and engaged so every day I feel like I have my own support group. And what I really love is there's no such thing as fail with this group. So often we beat ourselves up because we blew a day. This group allows me to be kind to myself and start again tomorrow. I love my new habit of walking. The physical AND mental benefits are amazing!! Thanks, Tammy.
Tammy designed a strength program for me, and coached me online through Training Peaks for my running. She did a fantastic job! I had amazing progress and crushed my goals with her help. Marathon training can be a grind but Tammy made it fun and an amazing journey. She is really such a warm and encouraging person. I would 100% recommend her for any kind of fitness coaching you may need!
I first met Tammy through a canfitpro certification course that I decided to take through her. I have taken a few courses in the past (not with Tammy) and was preparing myself for yet another boring, mechanical class. To my pleasant surprise, I found Tammy's classes were far from boring. She is entertaining and funny to say the least. But I also found her to be very knowledgeable and very professional. Tammy is the reason I continue taking certification courses. She is inspiring and always around when you need help or advice. I have learned so much from her both within the classroom and outside. Tammy has so much to offer the Fitness Industry and canfitpro is very lucky to have her as a Pro Trainer.
I have worked with Tammy since 2013! I started taking a couple of her fitness classes when she lived in Nova Scotia and shortly afterwards began training with her for running and then Triathlon. When she moved to Alberta, it was a sad day here but through TrainingPeaks, we have maintained a highly effective coach-athlete relationship. We have successfully met goal after goal. Tammy's plans are personally created to work within my schedule, my abilities, and my goals. Life happens and when changes come up, she is so understanding and accommodating.
I've worked with Tammy towards my fitness goals. She is an excellent coach, dealing with my shenanigans and helping me to grow as an athlete. My first big event (half ironman) with her I crushed my goals, and did it injury free. It was a lot of hard work and she kept me honest, and on track the entire time. 10/10 would refer her to others as a coach, especially for an endurance athlete. We do training rides together often, and she is a blast to work out with!
Tammy's programs have been an extremely very beneficial to my overall training program for Masters Track & Field and Triathlon.  Workouts are never boring or repetitive and work your entire body.  She has a unique ability to know the fitness level of and physical limits of everyone in the class. As she moves from one set to the next, she explains and demonstrates several levels of the same routine so each person can choose a comfortable level.  Tammy corrects form but is never critical. Her methods encourage each person to try and achieve more, feel good about themselves and leave class knowing that they had a great, health improving workout.
How I Can Help You!
Browse services below. If you need help deciding on what is best for you and your goals, contact me and we can have a chat.
---
NEW: The Vim & Vigour Academy
Live online educational wellness group coaching for mature women!
---
Outdoor Sports Coaching & Training Plans
Personal coaching, group lessons and training plans on TrainingPeaks
---
DIY Online Progressive Training Programs
Build muscle, strength, lose weight, or learn the lifestyle.
---
Healthy Habit Development Programs
It takes intentional practice to develop healthy habits!
---
Holistic Healthy Meal Plans & Recipes
More than just recipes. They are guides to healthier eating practices.
RECIPE VIDEOS
Try one of my recipes. Printable cards included.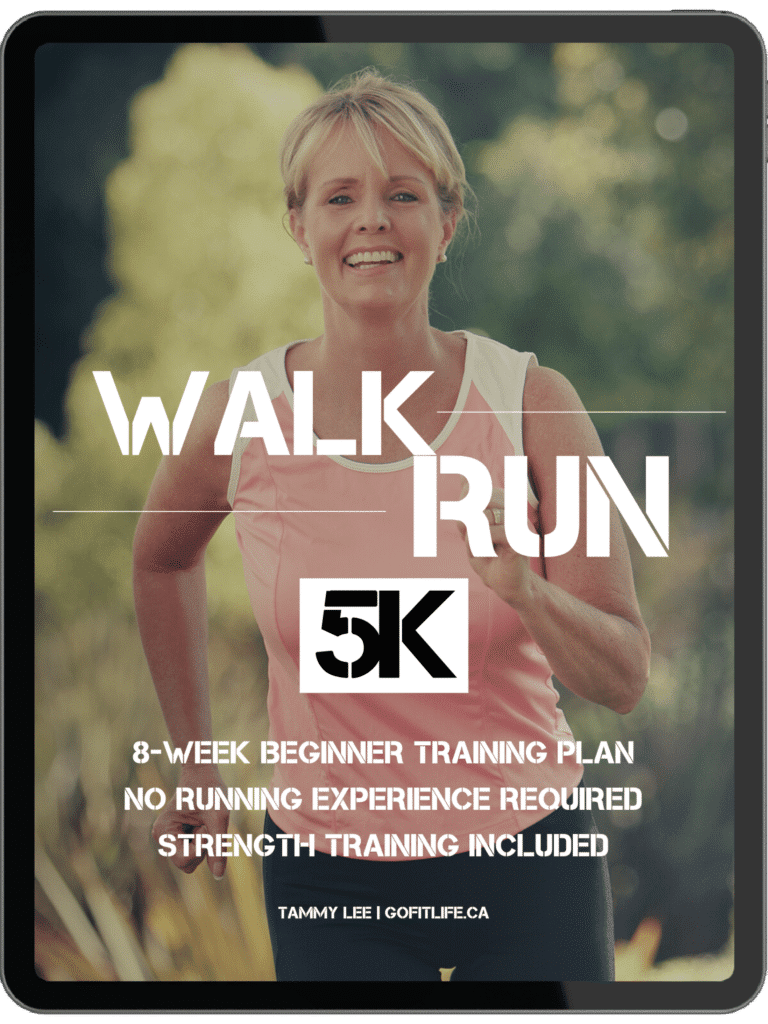 WALK-RUN YOUR FIRST 5K
The 8-Week Ultimate Training Guide for Beginners
Coach & Educator
Tammy Lee
GO FIT LIFE was founded in 2012 but Tammy Lee entered the fitness industry in 1999. She now has 23 years of helping people develop a healthier and happier lifestyle.
She is also an endurance athlete, likes to race mountain bikes, and thinks homemade cookies are the next best thing to her mom's homemade sliced bread.
Learn more about her credentials, awards, and involvement in the sports, fitness and wellness industries below.