What my clients say about their experience with me is the most important aspect of my business. It helps to improve, professionally and personally. I am honoured to play such a special part in their lives. Together, we make amazing things happen!
I have worked with Tammy since 2013! With Tammy's online plans and my commitment to an active lifestyle, we have successfully met goal after goal. Tammy works within my schedule, my abilities, and my goals. Life happens and when changes come up, she is so understanding and accommodating. Through her online coaching we have maintained a highly effective coach/athlete relationship. (Oct. 29, 2019)
I've worked with Tammy for two years. She is an excellent coach! My first big event (half ironman) with her I crushed my goals, and did it injury free. It was a lot of hard work and she kept me honest, and on track the entire time. 10/10 would refer her to others as a coach, especially for an endurance athlete. We do training rides together often, and she is a blast to work out with! (May 31, 2019)
If you recall, I purchased your Duathlon training plan back in December to prepare for my 1st Duathlon. I completed it successfully today. I followed your training peaks plan with precision and it served me well. I completed a sprint duathlon this morning in St; George Utah. I won my age group and took third place out of all participants, 55. I was pleased to be able to podium my first one. I wanted to finish the event in 55 minutes. I ended up with a time of 54:53. It was a 1.5 mile run, 10.5 bike ride, and 1.5 mile run. Thank you for your plan. I contribute my success today to a very good plan, especially this being my first one. Thank you for your contribution to my success today. (Rev#1 - Feb. 8, 2020)
I wanted to let you know that I used your Duathlon Training Plan again to prepare for the same event I completed in 2020. I felt better prepared this time to complete the training plan having one event behind me. I completed the same event again yesterday. I had the fastest men's time this year giving me a first place finish out of all men. Your training plan served me very well. I attribute my success this year to your robust and effective training plan. I wanted to thank you again for sharing your experience and expertise. As I prepare for other events, I will look for your training plans to help me. I hope all finds you healthy and safe in these challenging times. Best to you. (Rev#2 - Feb. 14, 2021)
Tammy designed a customized strength training program for me and coached me online through TrainingPeaks for my running. She did a fantastic job! I had amazing progress and crushed my goals with her help. Marathon training can be a grind but Tammy made it fun and an amazing journey. She is really such a warm and encouraging person. I would 100% recommend her for any kind of fitness coaching you may need! (Nov. 23, 2019)
I am a working mom of two very active kids; I reached a point in my life my weight was increasing and no matter what I tried nothing worked. I reached out to Tammy, begged her to take me on, two years later I'm still going to her. She is knowledgeable, personable and a wonderful person. Regardless of your activity level she makes it fit. Working out can be overwhelming and scary but with Tammy it's enjoyable and fun. (Oct. 31, 2019)
I signed on for Tammy's online coaching, with my main goal becoming a stronger runner. Not only did Tammy help me to reach that goal with her amazing motivational coaching, but she also gave me the tools to stay on track, so my routine is sustainable. She's phenomenal and a true inspiration!! Wherever and whoever you are... you will not regret having Tammy coach you. (Sept. 26, 2019)
Coach Tammy is definitely someone I'd recommend to anyone looking to get into shape or even to lose some extra body fat. She is very knowledgeable and experienced in many different aspects whether it be nutrition or fitness. She's not one to sit on her phone while you're with her. Tammy is there with you from day one until the end to ensure you're getting the results you want and doing it safely to avoid injury. Highly recommend! (Feb. 15, 2018)
I met Tammy in her Walking for Weight Loss class. She has a nice personality with a great knowledge. (June 6, 2018)
So this morning I stepped on my scale....... and it happened!! I broke the 20lb weight loss mark!! Let's be honest though 20.5 🤩 Tammy is magic!! She is inspiring, fun, silly, and knows her s**t! It is a genuinely great feeling when people say "I didn't think u had that much weight to lose" but Tammy helped me and guided me to do it in a healthy and fun and hard working way. Tammy I appreciate you to the moon 🌙 and back! (Jan. 11, 2018)
Hey Tammy, I just wanted to give you and updated. I honestly can not thank you enough for the inspiration you have given me to concur my weight issues and generally make me a stronger healthier human. I was down a bad path in life until I found your videos and our Lord and saviour Jesus Christ. With his help and yours I Have now dropped an astonishing 143 pounds. Thanks again Tammy and keep the great videos coming. (Aug. 6, 2015)
On Wednesday, January 23, 2013 I started a fitness class that has had more of an impact on my lifestyle than anything else I have ever done. This is the day I started my journey in BOOST. Thank you Tammy for sharing your knowledge and enthusiasm! You are an inspiration and an asset to the communities on the South Shore. I initially joined to force myself to do the speed training my current half-marathon training plan calls for, but I got so much more out of it. Not only did I lose over 10 pounds, but I had a personal best in my 5km run time! I think about, for probably the first time ever, what I am putting in my body… when I go to eat something I think "Would you feed that to your child?" and if I don't say a quick "yes", I don't feed it to myself. Tammy has become that voice in my head!! If you follow Tammy's plan you will meet your fitness and weight goals. I have since signed up for two more of her classes!
Have a review to submit? I'd love to display it too.
If you are using or have used any of my plans, programs, products or services, I'd love to hear what you think.
All feedback is welcome, both positive and negative. Your experience matters a great deal to me and so no matter what you say, it will be used to improve my offerings to help you and all my future clients. Of course, if you want to give feedback but not have it displayed, I will absolutely respect this.
Feel free to also give a review on my Google Business page and/or Facebook page too.
VIEW YOUR TRAINING PLAN NOW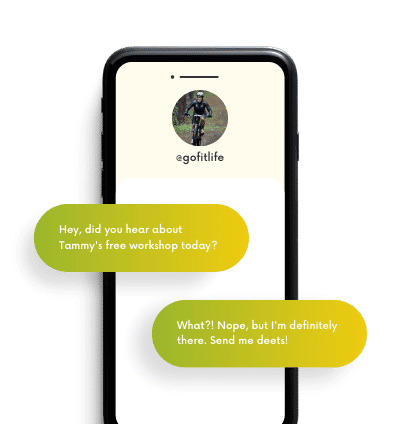 Get the inside scoop to what's new.
When you subscribe to my latests news, you can know that I will never spam ya or send you a ridiculous amount of marketing emails. I don't send out information about everything I do but I'll give you a heads up on the real good stuff. Of course, I will never share or sell your information and everything is protected under key and code. If you don't like what I offer or not jiving with my vibe, you can unsubscribe at any time by simply clicking the link at the bottom of any email.