A Simple Recipe for Homemade Watermelon Celery Lime Juice
This watermelon celery lime juice takes 5 minutes to make and has no added sugars. It's all-natural, making it a great juice to sip on hot summer days. Only 96 kcals per serving too.
It goes without saying that this recipe is gluten-free, dairy-free, vegetarian and vegan-friendly.
NOTE: This recipe only makes two servings, so if you are planning to have a backyard BBQ party, you'll want to double up or more on this recipe.
Watermelon History
Ever wonder where watermelon originated from? Here's a little bit about that.
"Watermelon's history dates back 5000 years to southern Africa where the tough, drought-tolerant ancestor of watermelon thrived. Although we don't know the exact identity of this plant, we do know it was prized for its ability to store water and was used by indigenous people in the Kalahari Desert region."
You can read more about it here.
I find it fun to learn about the history of food. It makes for great conversations in the kitchen with your family or friends, preparing a meal together.
More Watermelon Recipes
There are so many other things you can make with watermelon too. Check this amazing list out here. It has 15 juicy watermelon recipes that will make you drool.
I also found 34 surprising but easy recipes you can make with watermelons. Check them out here.
Who'd a thunk it, eh? If you just put "watermelon recipes" in Google, hundreds of ideas pop up. It's wonderful to explore. A food adventure.
⭐️ If you use my watermelon celery lime juice recipe, please give it a rating and let me know what you think in the comments section. Did you make any substitutions or changes? I would love to hear about it.
You can also find more recipes to print here and video tutorials of my recipes here.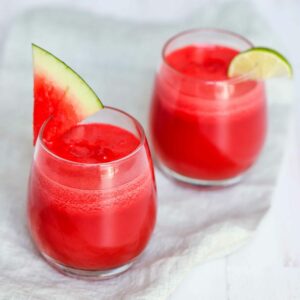 Watermelon Celery Lime Juice
A refreshing homemade summertime juice recipe. Definitely a hit for those hot sunny days. The kids will love this one too. Packed full of nutrients, no sugars added! The recipe only serves 2. Double or triple it up to serve more.
Equipment
1 Juicer

Could use a processor too, on high.
Ingredients
3

cups

450g watermelon

flesh only

1-2

celery sticks

depending on preference

1

lime

juice only
Instructions
Place the watermelon flesh and celery in a juicer and process them.

Add in the lime juice, mix well, and serve the juice chilled.
Notes
Estimated nutrition info per serving:
96 kcal
1g fat
24g carbs
2g protein