No Bake Carrot Cake Cookies
This no-bake carrot cake cookie recipe makes 15 cookies in under 10 minutes.
These cookies are a healthier option, especially if you are trying to reduce the use of refined sugars. They are packed with nutrients, including vitamin A, potassium, fibre, iron, calcium, sodium, magnesium, protein, healthy fats and carbs.
What You'll Love About These No Bake Carrot Cake Cookies
they are sweet, thanks to the dates
lower in calories than your average cookie
contain wholesome ingredients
they are easy to digest
to make them "fuller", you can add oats or raisins
and of course, easy to make – no bake!
When I was exploring the GAPS diet for better digestion, I discovered this recipe. I have a finicky gut and sometimes have trouble digesting certain foods. Experimenting with GAPS-friendly recipes works well for me by reducing bloat, heartburn or stomach pain.
If you can relate, feel free to explore some GAPS-friendly dessert recipes by checking out My Gutsy's GAPS
Never heard of GAPS? It stands for Gut And Psychology Syndrome. You can learn more about this by following Dr. Natasha Campbell-McBride.
I'll be honest, she sometimes gets criticized for her theories and methods. However, I found the process of eliminating certain foods from my diet helpful in figuring out what was bothering my body. To each their own.
Anyway, give this no bake carrot cake cookie recipe a try and let me know what you think about it in the comments section.
Happy no baking!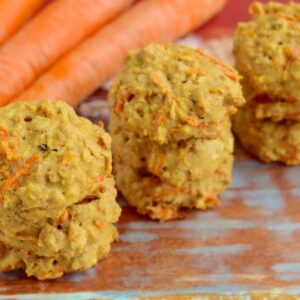 No Bake Carrot Cake Cookies
These cookies are so easy to make. Store them in the fridge for days. Make a double batch as they won't last long. If you find them a little too soft, feel free to add some rolled oats, spooning in a little extra until you get to your desired consistency.
Ingredients
1

cup

nut butter of your choice

½

cup

finely shredded coconut

non-sweetened

2

tsp

vanilla extract

2

tsp

cinnamon

⅛

tsp

of allspice

½

tsp

Himalayan pink salt

½

cup

chopped dates

or more

½

cup

of chopped walnuts

1

finely shredded carrot

2

tbsp

rolled oats (optional)
Instructions
Mix all the ingredients by hand in a bowl.

Scoop tablespoon size amount into palm of hand and roll into a ball.

Press to flatten cookie on a sheet.

Place in container and store in the fridge.

Optional: add rolled oats to increase density
Please rate this recipe below. Did you make any modifications or ingredient substitutions? Tell us about it. 😊