Traditional Scottish Shortbread
This traditional Scottish shortbread recipe makes a crispy biscuit that melts in your mouth on every bite. Butter is the key.
Shortbreads are my favourite but I'm not a fan of those recipes that use a lot of flour and grainy sugars. They just don't have the same flavour and texture.
Traditional shortbreads use a lot of butter. There's a whole history around that dating way back before 1736. Apparently, the recipe was perfected and refined by Mary, Queen of Scots. Super cool, eh? You can read more about the history of Scottish shortbreads here.
So back to this recipe, it also calls for cornstarch and icing sugar. Combine that with butter and no wonder it produces a beautifully crisp biscuit that melts in your mouth. That's my kind of shortbread. If it's yours too, give this simple recipe a try.
A few things to note: I mix with my hands and then pound out the dough on a cookie sheet. Then I score the dough to make little rectangles. Using a fork, I'll poke the traditional Scottish pattern into each biscuit.
Another option is to roll the dough out and make Christmas cookies using cookie cutters. You can also make cream cheese icing and decorate the cookies after they are baked.
For chocolate lovers, you can make a chocolate dip and dip half the cookies or biscuits. I found this homemade chocolate dip recipe but haven't tested it. If you try it, let me know how it goes in the comments section below.
I find making this traditional Scottish shortbread so therapeutic. It's like making an edible craft. Put on some Christmas music, pour a glass of wine, and enjoy every moment.
There are so many other ideas to explore but I would like to know what you do with your shortbread cookies. Post your ideas, tips, tricks and anything else you'd like to share below.
Happy baking!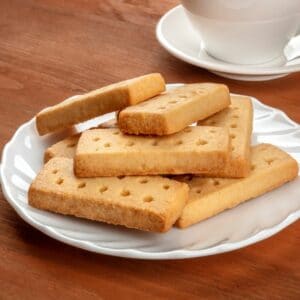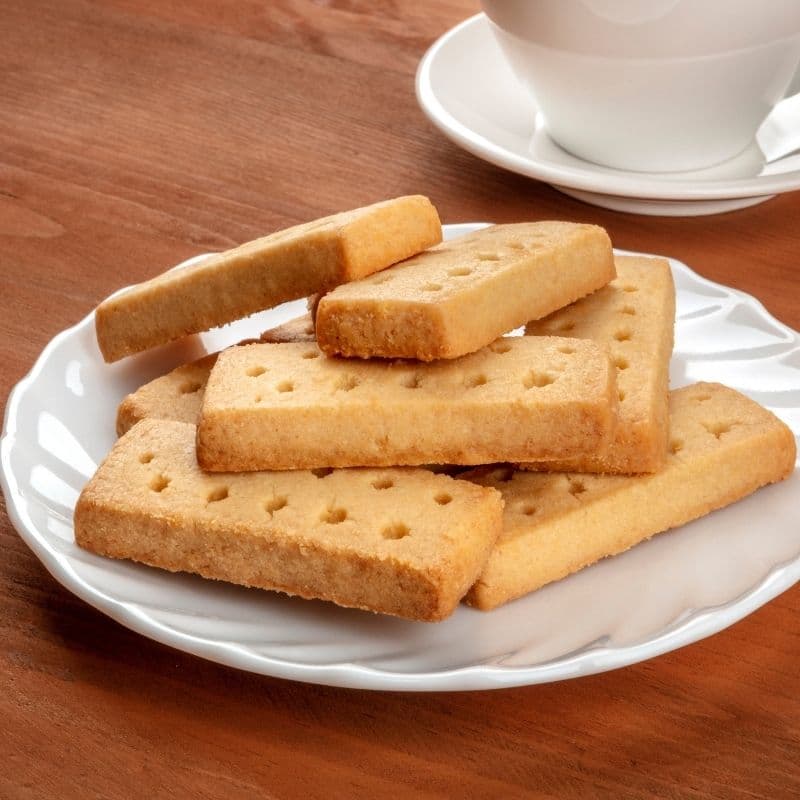 Traditional Scottish Shortbread
These Scottish shortbreads are crispy to bite but will melt in your mouth. Traditional recipes use lots of butter and this one calls for 1.5 cups. It also calls for icing sugar and cornstarch. If you are looking for a delightful traditional shortbread that is quick and easy to make, then you found it.
Ingredients
1.5

cups

softened butter

2

cups

all purpose flour

1

cup

icing sugar

1

cup

cornstarch

¼

tsp

salt
Instructions
Combine all ingredients in a mixing bowl.

Mix with your hands until you form a big ball of dough.

Transfer dough onto an ungreased cookie sheet and press the dough to cover the whole sheet. Using a knife, score the dough to shape small rectangular biscuits. Using a fork, poke each biscuit with the traditional Scottish pattern.

Bake at 300 F for 20 – 30 minutes, until the bottoms are very lightly browned

Transfer to a paper towel-covered wire rack to cool.
Notes
You can also roll these out and use cookie cutters to make Christmas cookies. Of course, the number of biscuits or cookies you get will depend on how big you make each one. I can get three dozen biscuits using a large baking sheet.
WANT MORE HEALTHY HOLIDAY RECIPES?
🔥 Check out my homemade Ferrero Rocher pralines by clicking here.
🔥 Want easy and healthy free recipes delivered to your inbox? I send out free and fun-themed recipe ebooks to my subscribers such as grain-free breakfasts, Vegan desserts, low-carb lunches, and so on. Sign up here and instantly receive a free copy of my 20 Post-Workout Protein Snack Recipes.
Please rate this recipe below. Did you make any modifications or ingredient substitutions? Tell us about it. 😊