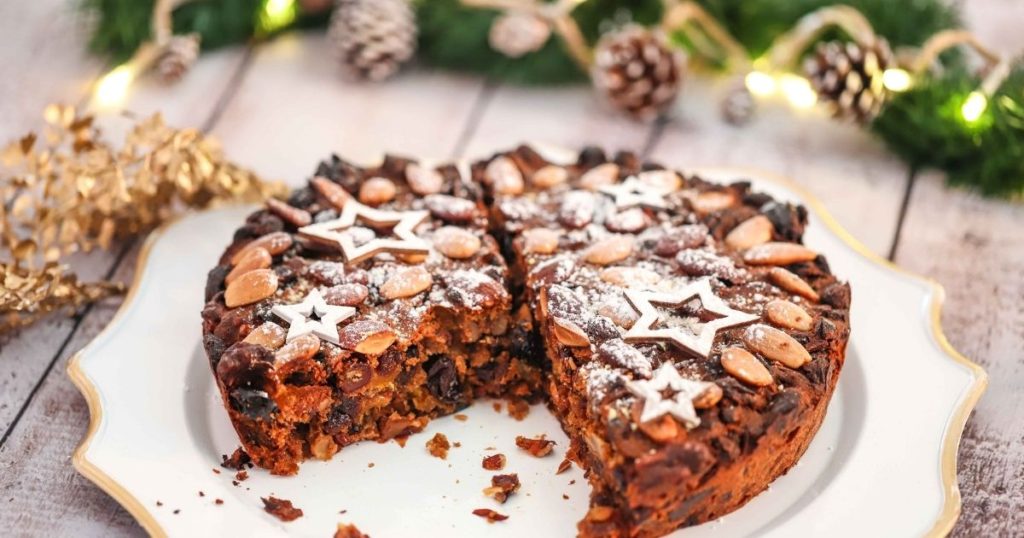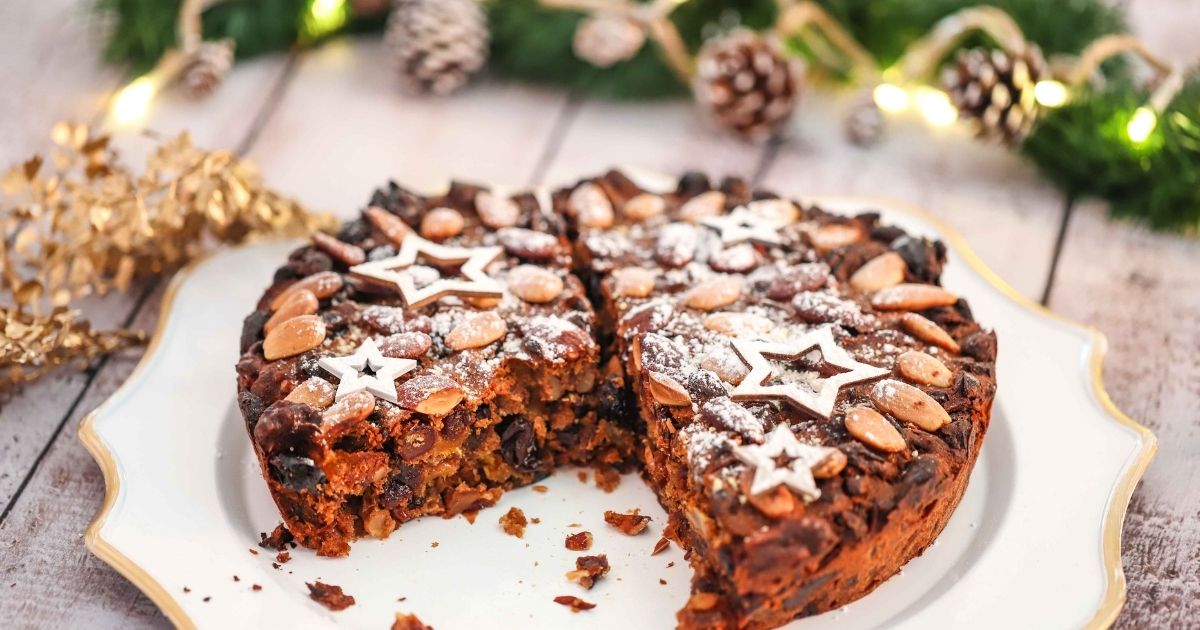 Sugar-Free Christmas Cake
This sugar-free Christmas cake is sa-weet!
If you have a sweet tooth like me and seeking alternative ways to satisfy it, you should try this cake. Fruit is the key!
Them: "But fruit is just as bad as sugar and makes you fat."
Me: "NO, it does not!"
(we really need to stop repeating on autopilot what others say and start thinking more critically about what was said)
First of all, there is no one food that makes you fat. Eating more calories than you expend on a daily basis over a period of time is what can make you fat.
You can get fat from eating salad if you consume too much of it, although I don't know this to have ever happened.
Therefore, fruit does not make you fat. Read more about the lies that are being told here.
And despite what many people think, sugar in itself is not bad for you either. Again, it is eating too much sugar that may eventually lead to weight gain (consuming too many calories) which may contribute to elevated health risks. You can also learn more about some of those lies here.
So back to this cake. Bottom line – it's just a tasty, joyful option that will help you to balance out the sugar scales if you find yourself tipping them over the holidays.
That is all! I am done rambling. Now, let's get to the Christmas baking.
WAIT! FIRST CHECK OUT EAT JOY – IT IS FREE FOR THE HOLIDAYS
I'm giving away 'Eat Joy' for the holidays. It includes this sugar-free Christmas cake recipe and nine more wonderful dishes.
It also includes the following:
Festive Party Survival Guide
Crush Christmas Food Cravings Guide
7-Day Christmas Fitness Challenge
Watch the video below for a quick 15-second sneak peek. Click here to get it free now.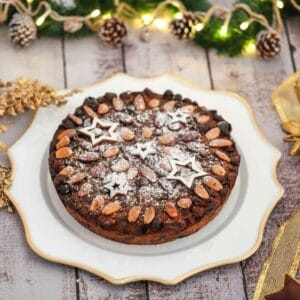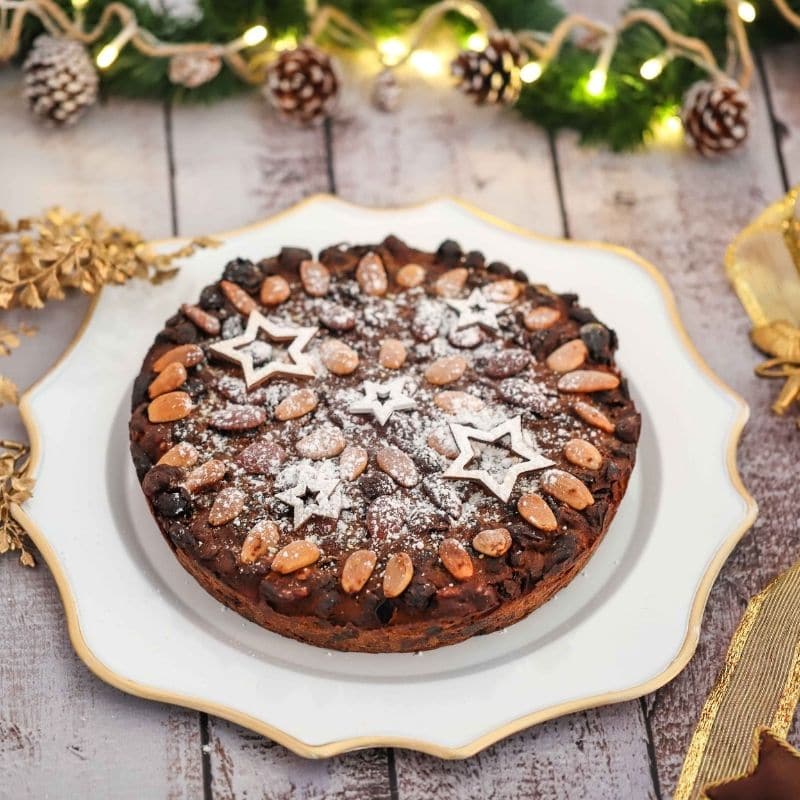 Sugar-Free Christmas Cake
A sugar-free Christmas cake recipe that is easy to make for the holidays. This cake is rich and delicious. No fancy equipment is required. It is made completely from scratch. A fantastic addition to your Christmas recipe collection.
Equipment
Large mixing bowl

Blender

7.5 inch (18 cm) baking tin

Baking paper
Ingredients
1.4

lbs.

650g dried fruits, chopped (dates, raisins, apricots, figs)

1

orange, peeled

3

eggs

2

tsp

vanilla extract

¼

tsp.

ground nutmeg

½

tsp.

ground ginger

1

tsp.

ground cinnamon

¼

tsp.

ground cloves

¼

tsp

baking soda

4 ½

oz.

120g coconut oil, melted

3 ½

oz.

100g wholemeal spelt flour

½

cup

70g almonds
Instructions
Preheat the oven to 300°F (150°C).

Combine your choice of dried fruits in a large mixing bowl.

Meanwhile add the eggs, orange juice, vanilla extract and spices into a blender and blitz until smooth.

Pour the egg  mixture over the top of the dried fruit, add the melted coconut oil and mix well to combine. Now add in the flour and baking soda and mix again.

Line a 7.5 inch (18 cm) baking tin with baking paper and spoon in the cake mix.

Decorate the top with almonds and bake for 80 minutes or until a wooden skewer inserted into the center of the cake comes out clean.

Remove the cake from the oven, place on a wire cooling rack and allow to cool completely before serving.
Notes
Estimated nutrition:
245 kcal
11g fat
36g carbs
5g protein
WANT MORE HEALTHY RECIPES?
🔥 If you like this recipe, check out my Carrot Cake with Cream Cheese Frosting by clicking here.
🔥 Want easy and healthy free recipes delivered to your inbox? I send out free and fun-themed recipe ebooks to my subscribers such as grain-free breakfasts, Vegan desserts, low-carb lunches, and so on. Sign up here and instantly receive a free copy of my 20 Post-Workout Protein Snack Recipes.
Please rate this recipe below. Did you make any modifications or ingredient substitutions? Tell us about it. 😊