Healthy Homemade Ferrero Rocher
These healthy homemade Ferrero Rocher pralines are an easy, fun and delicious treat to make for the Christmas holidays, Valentines, Easter or for any special occasion.
They are a huge hit with my clients. It's also a hit with my boyfriend as this is his all-time favourite sweet thing to eat. Yes, I'm a fan of these too.
Are you?
If so, you gotta make this healthier version than the commercialized Ferrero Rocher. The recipe is incredibly blow-your-mind easy and only takes 10 minutes.
I have made some personal modifications to these healthy homemade Ferrero Rocher pralines. For example, I have used maple syrup in place of agave syrup. My boyfriend does not like dark chocolate so I have used semisweet chocolate chips. In place of sea salt, I sometimes use pink Himalayan salt.
One thing I would like to try is a white chocolate version of these pralines. I am a huge white chocolate fan. I'm curious to explore this recipe some more and come up with other ideas because it's so simple and quick to make. If I could formulate a few other versions, I think this would be a regular dessert in our home.
I'm an avid cyclist. I have got to make a version to take on my rides. Wouldn't that be wicked? Everyone will want my snacks. Ha!
If you have some ideas or suggestions on how to change this recipe up, I would love to hear about them. Share them in the comments section below.
Don't forget to rate the recipe. Knowing what my readers like helps me to know what recipe I should share next.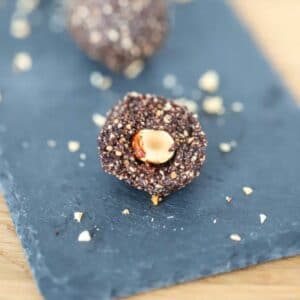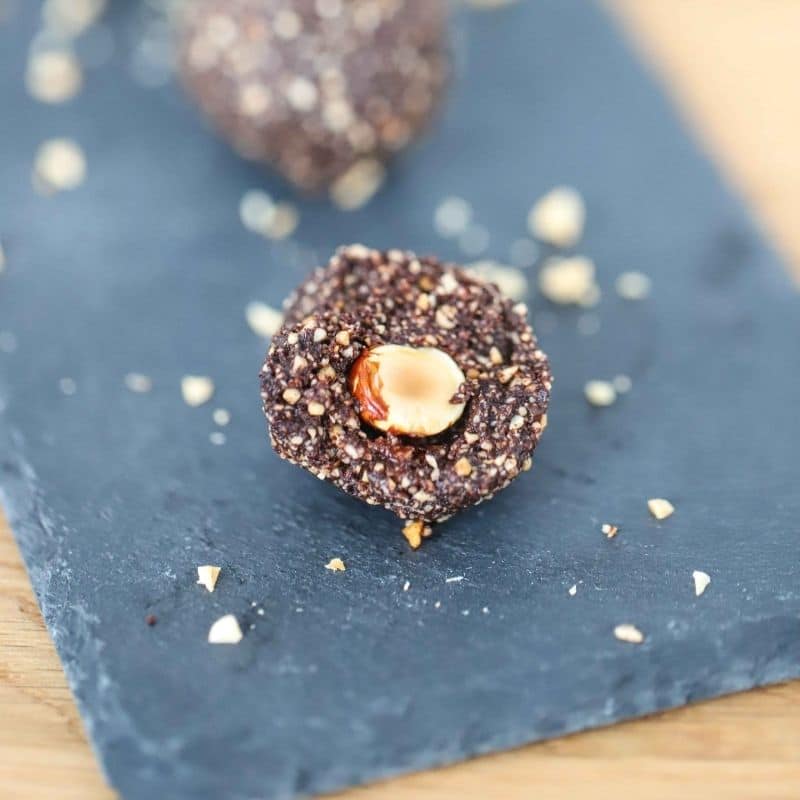 Healthy Ferrero Rocher
A simple and quick recipe to create a healthier version of the famous Ferrero Rocher chocolate hazelnut balls. You can make these for the holidays or any special occasion by using a few ingredients and rolling them into bite-size balls. If you make them, don't forget to rate the recipe and let us know how it goes in the comments section below. Enjoy the nom-noms!
Ingredients
1

cup

135g + 12 hazelnuts

2

tbsp

cocoa powder

2

tbsp

agave syrup

1

tsp

vanilla extract

pinch

of sea salt

2

tbsp

dark chocolate chunks
Instructions
Add 1 cup of hazelnuts into a food processor and blitz until chopped into tiny pieces.

1 cup 135g + 12 hazelnuts

Next, add the cacao powder, agave syrup, vanilla extract, sea salt and chocolate. Pulse until all the ingredients start to stick together. If the mixture is too dry, add 1-2 teaspoon of water.

2 tbsp cocoa powder,

2 tbsp agave syrup,

1 tsp vanilla extract,

pinch of sea salt

Roll the mixture into bite-size balls and insert one hazelnut into the centre of each ball.

2 tbsp dark chocolate chunks

Serve straight away or store in the fridge for later.
Notes
Sometimes I will swap agave syrup for maple syrup or honey. I have also used Himalayan pink salt in place of sea salt. For dark chocolate, you can play around with different chips for various flavours and sweetness levels.
Estimated nutrition:
91 kcals
8g fats
6g carbs
2g protein
WANT MORE HEALTHY HOLIDAY RECIPES?
🔥 Check out my Sugar-Free Christmas Cake by clicking here.
🔥 Want easy and healthy free recipes delivered to your inbox? I send out free and fun-themed recipe ebooks to my subscribers such as grain-free breakfasts, Vegan desserts, low-carb lunches, and so on. Sign up here and instantly receive a free copy of my 20 Post-Workout Protein Snack Recipes.
Please rate this recipe below. Did you make any modifications or ingredient substitutions? Tell us about it. 😊