A Simple Recipe for Keto Pesto Zoodles With Chicken
This keto pesto zoodles with chicken recipe is super simple! It takes 25 minutes in total from start to finish. It requires a handful of ingredients and just one pan. This pesto dish is so delish. You should try it even if you do not eat a keto or low-carb diet.
Zoodles are a noodle made from spiralizing zucchini. They can also be made with a vegetable peeler, but you won't get the same round shape.
Don't like zucchini? No problem! I'm not a fan of zoodles either. Instead, you can make this recipe using wheat noodles.
Or you can use GoGo Quinoa spaghetti noodles, which is what I do. The quinoa adds more carbs and protein.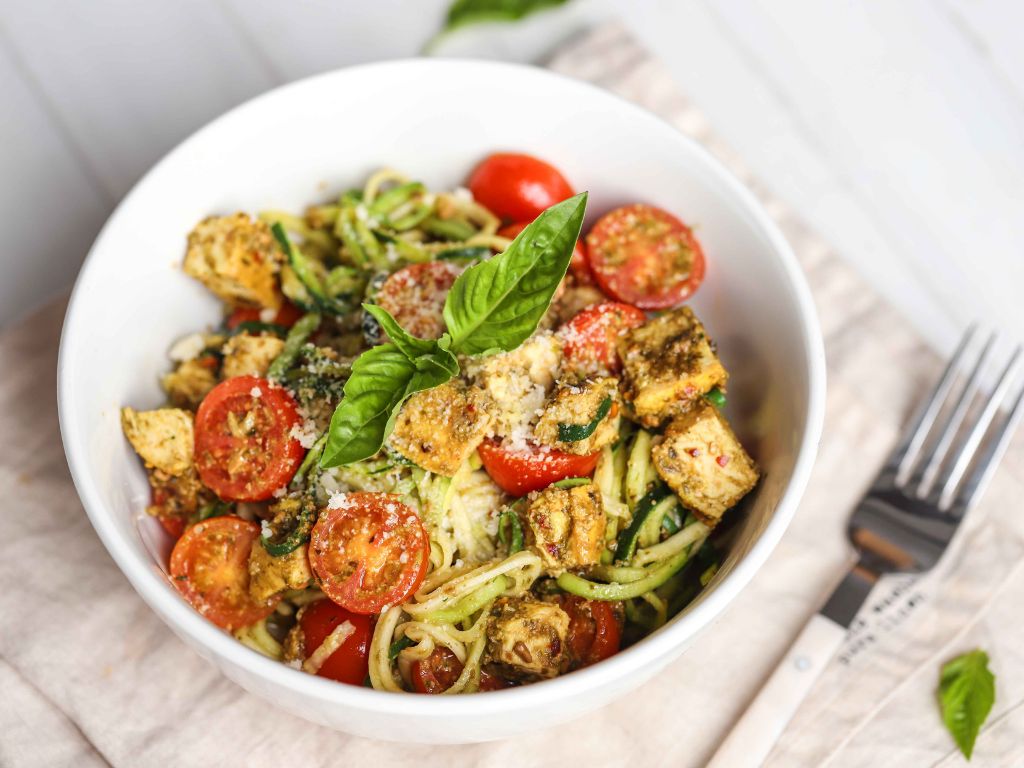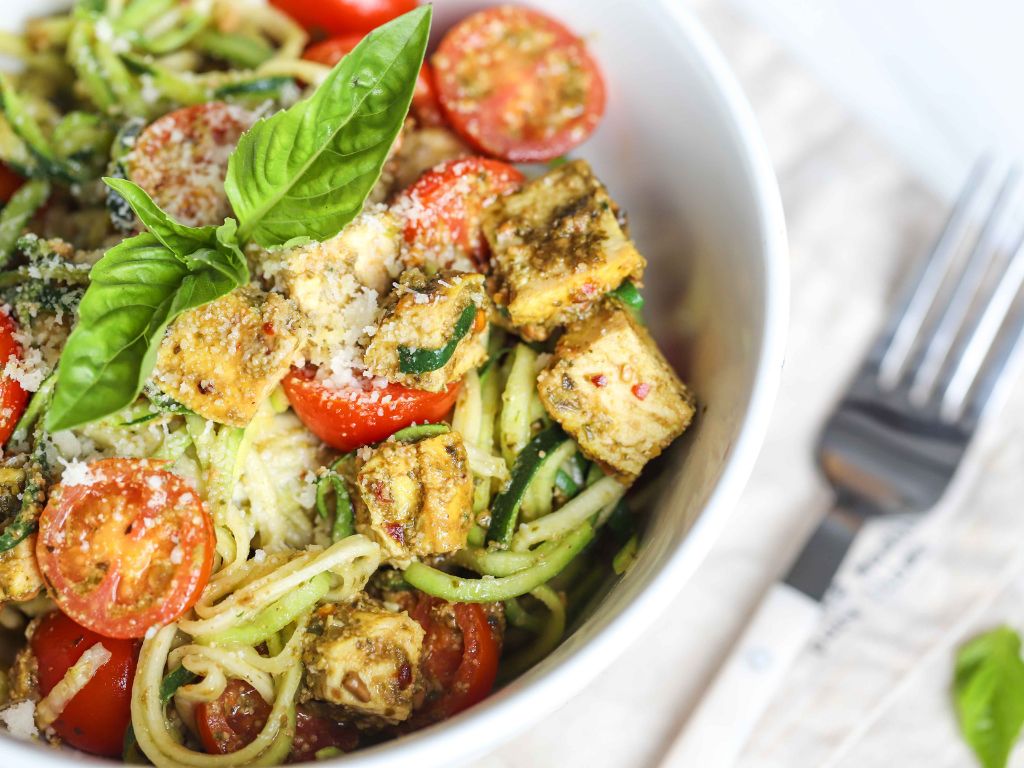 Keto Diet
While I will try keto recipes, I do not follow a keto diet. Why? Because it doesn't jive with my food preferences or athletic lifestyle. I tried a low-carb diet for a year and that didn't work for me either.
Does this mean I am against the keto diet? Hell no! If I were, I would not be sharing a keto recipe with you right now. I have clients on keto and low-carb diets. I also wrote a low-carb recipe ebook.
But for me, I need a diet higher in carbohydrates. I am an ultra-endurance athlete, spending many hours riding my bike. A lot of energy is spent pedalling over long distances, climbing steep hills, and navigating challenging terrain.
To efficiently fuel my body so I can maximize cycling performance, I need about 3g to 5g of carbohydrates per pound of body weight. I snack on carbs during my rides to keep my energy levels up. After my rides, I need to replenish my depleted carb stores to prepare for the next training session.
I also need a high-protein diet to recover and rebuild from high-volume training. Healthy fats are also important, but I don't need them in large amounts. Therefore, a keto or low-carb diet would not make sense for me and could impede my performance. Learn more about why carbs are important for endurance athletes here.
But there are a lot of endurance athletes performing well on keto diets, you say? Yes, I agree!
This is not an argument over which way of eating is superior. We all have different goals, training protocols, bodies and food preferences. To each their own. I respect individual choices. After all, I want the same respect for my choices too.
No matter how differently we eat, we can all agree on one thing – to eat healthy whole foods most of the time and in proper portions that support our personal goals.
⭐ I have a big favour to ask. If you use my keto pesto zoodles with chicken recipe, please give it a rating below and let me know what you think in the comments section. Was it easy to make for you? Did you make any substitutions or changes? I would love to hear about it.
You can also find more recipes to print here and video tutorials of my recipes here.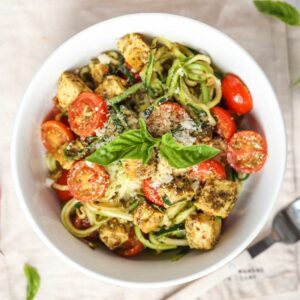 Keto Pesto Zoodles with Chicken
This is a simple and healthy recipe for anyone that loves zoodles, not just for keto. Only one pan is required too. You're practically skipping the dishes.
Zoodles are a noodle made from spiralizing zucchini. They can also be made with a vegetable peeler, but you won't get the same round shape.
Gluten-free, low in carbs and high in protein.
Equipment
1 spiralizer

vegetable peeler

1 large frying pan
Ingredients
4

zucchini

spiralized

1

lb.

450g chicken breast, chopped

2

tbsp.

olive oil

4

tbsp.

green pesto

2

cups

300g cherry tomatoes, halved

⅓

cup

30g parmesan cheese, grated

fresh basil

to serve

chili flakes

to serve

salt and pepper
Instructions
Make zucchini noodles using a spiralizer or a vegetable peeler.

Heat 1 tablespoon of olive oil in a large pan over medium heat. Season the chicken with salt and pepper and place the chicken in the pan for 8-10 minutes, ensuring it is cooked all over. Once the chicken is cooked through, transfer to a plate and set aside.

2 tbsp. olive oil,

salt and pepper,

1 lb. 450g chicken breast, chopped

Next, cook the zoodles. In the same pan, add the remaining tablespoon of oil, pesto, tomatoes and zucchini noodles. Stir well, until the zoodles are coated with the pesto.

4 tbsp. green pesto,

2 cups 300g cherry tomatoes, halved

Add the chicken back into the pan, along with the parmesan cheese and toss. Add more salt and pepper if necessary.

⅓ cup 30g parmesan cheese, grated

Serve with fresh basil and chili flakes.

fresh basil,

chili flakes
Video
Notes
Estimated Nutrition:
338 cals/serv
19g fats
11g carbs
32g protein
Don't like zucchini? Try swapping the zoodle for a wheat, quinoa or rice noodle.
Yum-Yum Bowls Recipe eBook
Get the recipe above plus 14 more in a premade meal plan with the complete grocery list and a barcode to scan into MFP for easy tracking. Email support is included.