How to Make Delicious Korean-Style Turkey Meatballs
These Korean-style turkey meatballs are delicious, and moist, and go great as a side dish or served over rice. High in protein too.
All you need is a few bowls and one frying pan. It takes a bit to prepare as you need to soak the bread first, but other than that, the process is pretty simple. You probably have most of the ingredients in your cupboard already. Nothing fancy.
If you don't like turkey, you can use beef or chicken too. All these meats are high in protein. This also gives you ideas for more ways to use this recipe. Personally, I often swap ingredients to change the dish.
It's like changing a type of exercise but still training the main muscle group. Instead of doing a bicep hammer curl, you can do a bicep supine curl.
Variety is the spice of life!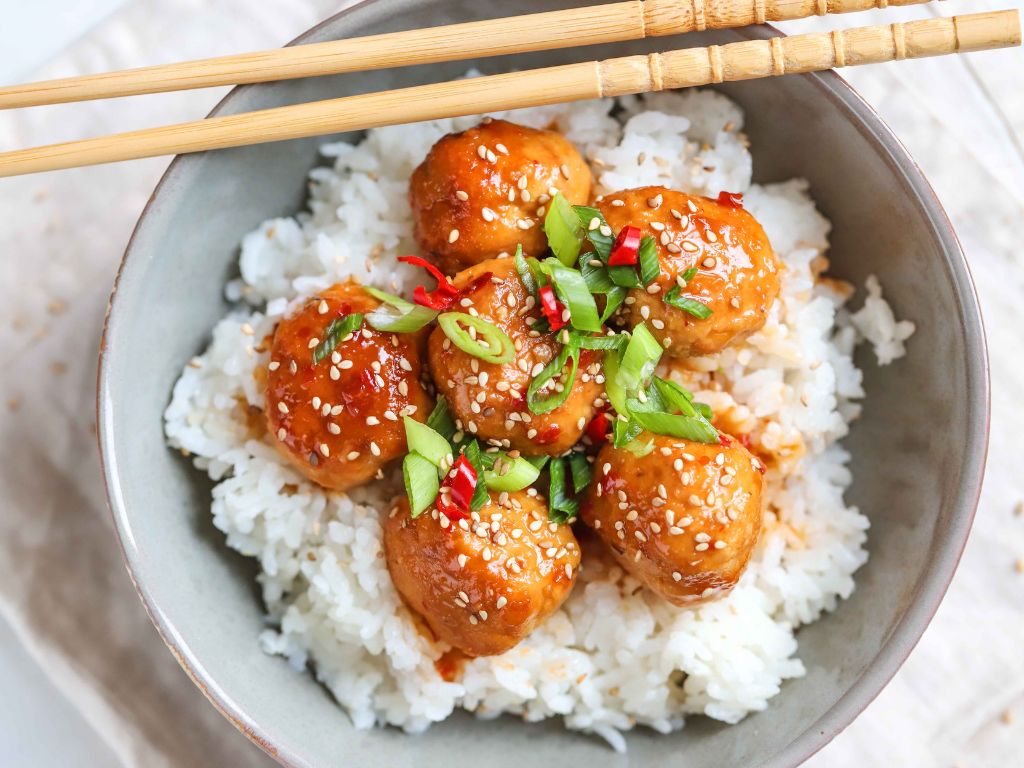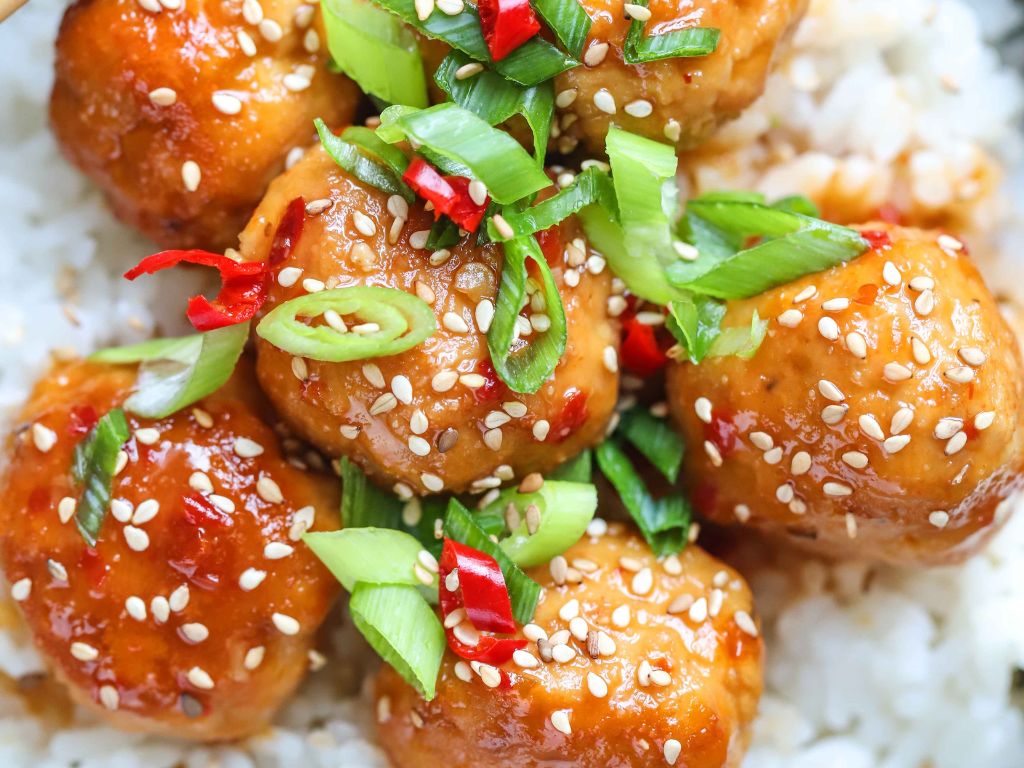 3 Fun Facts About Korean Food
Korean food is known for its use of various spices and seasonings, such as gochujang (a fermented red chilli paste), garlic, ginger, sesame oil, and doenjang (fermented soybean paste).
The traditional Korean meal comprises a soup, a main dish, at least two side dishes, and a variety of banchan (small side dishes).
Kimchi is a fermented vegetable dish, a staple in Korean cuisine, and is often served with every meal. It is made with various vegetables, including napa cabbage, radish, and cucumber, and is usually seasoned with chilli peppers, garlic, ginger, and other spices.
Try these Korean recipes by Sue at My Korean Kitchen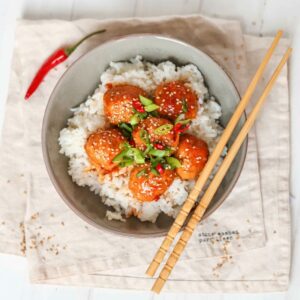 Korean-Style Turkey Meatballs
These Korean-Style Meatballs take a bit of time to make but it's worth it. They are moist, juicy and full of flavour. They pair well with cooked rice. Sprinkle them with roasted sesame seeds, chives and crushed chile peppers. I suggest making a double or triple batch and freezing the extras.
Ingredients
What You Need for the Meatballs
1

small bread roll

1

lb.

450g ground lean turkey

1

egg

1

tsp.

paprika

1

tsp.

garlic powder

1

tsp.

sesame oil

1

tbsp.

soy sauce

2

tbsp.

flour

1

tbsp.

olive oil

1

cup

240ml chicken stock

salt and pepper
What You Need for the Sauce
5

tbsp.

sweet chili sauce

4

tbsp.

soy sauce

2

tbsp.

sesame oil

3

tbsp.

tomato ketchup

1

tsp.

garlic powder
Instructions
What You Do for the Meatballs
Place the ground turkey into a large bowl.

1 lb. 450g ground lean turkey

Place the bread roll in a small bowl, and cover with cold water. Leave it to soak for about half an hour.

Once soft, drain the water and add to the meat.

Next add in the egg, paprika, garlic, sesame oil, soy sauce, season with salt and pepper and mix well.

1 egg,

1 tsp. paprika,

1 tsp. garlic powder,

1 tbsp. soy sauce,

salt and pepper,

1 tsp. sesame oil

With slightly damp hands, make small meatballs about the size of a walnut. Dust each meatball with the flour.

Heat the olive oil in a large deep-sided frying pan and cook the meatballs until browned all over.

Add in the hot chicken stock, bring to boil, cover and cook, over medium heat, for 20 minutes.

1 cup 240ml chicken stock
What You Do for the Sauce
Make the sauce by mixing the sauce ingredients together in a small bowl.

5 tbsp. sweet chili sauce,

4 tbsp. soy sauce,

2 tbsp. sesame oil,

3 tbsp. tomato ketchup,

1 tsp. garlic powder

Add into the pan with the meatballs and bring to a boil. Simmer gently for about 2-3 minutes, stirring from time to time.
Video
Notes
⭐️ Estimated Nutrition ⭐️
362 cal per serving
17g fats
28g carbs
26g protein
👩🏻‍💻 Rate My Recipe
Please scroll to the bottom of this page and rate my recipe. Let me know your thoughts in the comments section. Did you try it? Was it easy to make for you? Did you make any substitutions or changes? I would love to hear about it.

And if you liked it, get more recipes through the buttons below.
---
THE LIPSMACKERS COLLECTION
The LipSmackers Collection has been created to help my clients eat healthier and build sustainable habits. Each ebook contains 15 recipes, a 1-week meal plan, a done-for-you grocery list, calorie and macronutrient info, and a MyFitnessPal barcode for easy tracking. BONUS FEATURE: each book has a fitness or wellness challenge to spice things up. Check out ebooks from my collection below.