Easy Malaysian Chicken Soup to Warm Your Belly
This easy Malaysian chicken soup is a culinary journey through the vibrant flavours of Southeast Asia. It as comforting as it is delicious!
This aromatic and nourishing soup is a symphony of flavours, blending the richness of coconut milk with the zing of red curry paste and the earthy goodness of potatoes and sweet potatoes. Join me as we unravel the secrets behind this soul-soothing dish, perfect for cozy gatherings or simply warming up your evenings with a bowl of authentic Malaysian goodness.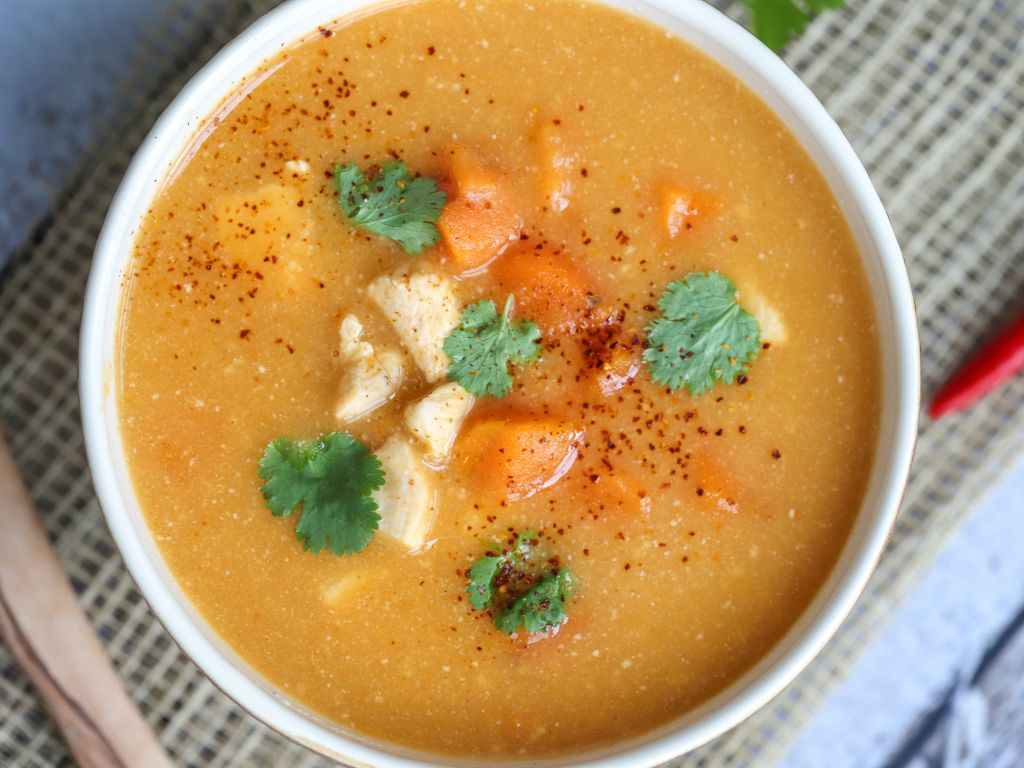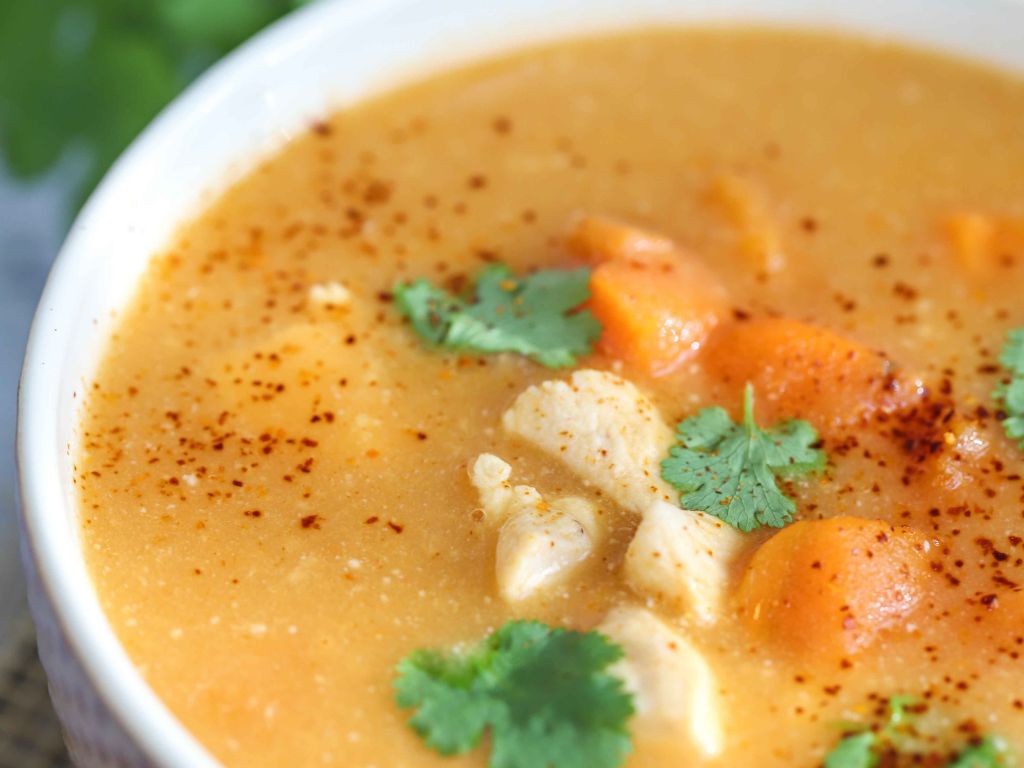 Ingredient Substitutes for this Malaysian Chicken Soup
Chicken:

Tofu: For a vegetarian option, you can replace chicken with extra-firm tofu cubes. Press the tofu to remove excess moisture before adding it to the soup.
Shrimp: Seafood lovers can use peeled and deveined shrimp as a flavourful alternative to chicken. Add them towards the end of the cooking time to prevent overcooking.

Coconut Milk:

Soy Milk or Almond Milk: For a dairy-free and lighter option, unsweetened soy milk or almond milk can be used. While it won't replicate the coconut flavour, it will provide a creamy base for the soup.
Heavy Cream: If you're not concerned about keeping the dish dairy-free, heavy cream can be used as a substitute. It will make the soup rich and velvety, although it won't have the coconut flavour.

Fish Sauce:

Soy or Tamari Sauce: Both options provide a salty and savory element that enhances the taste of the soup. Start by adding a small amount and adjust to taste, as soy sauce can be quite salty.
Coconut Aminos: has a slightly sweeter taste compared to soy sauce but works well in providing a umami flavour to your soup. Begin with a conservative amount and adjust according to your preference as you cook.
Feel free to experiment with these substitutions based on your dietary and taste preferences. Keep in mind that substitutions may affect the final taste and texture of the soup.
If you have another suggestion or need help to substitute any other ingredient, please post in the comments section.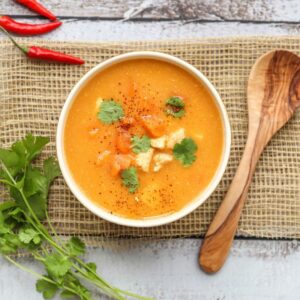 Malaysian Chicken Soup
This Malaysian chicken soup is a flavourful dish for four. Heat coconut oil and red curry paste, add potatoes and chicken stock, simmer until tender. Blend into a smooth soup. Add sweet potatoes, coconut milk, chicken, cook until tender. Season with fish sauce, lime juice. Serve hot, garnished with chili flakes and coriander. Easy peasy!
Equipment
1 Sauce Pan

1 hand blender

or food processor
Ingredients
1

tsp.

coconut oil

1

tbsp.

red curry paste

17.5

oz.

500g potatoes, peeled, chopped

4

cups

1 litre of chicken stock

¾

cup

180ml coconut milk, can

17.5

oz

500g sweet potatoes, peeled, chopped

2

chicken thighs, skinless, boneless, chopped

8oz./230g

2

tbsp.

fish sauce

1

lime, juiced

chili flakes, to serve

4

tbsp.

coriander, chopped, to serve
Instructions
In a large saucepan, heat the coconut oil and the curry paste for 1-2 minutes, stirring constantly with a wooden spoon.

1 tsp. coconut oil,

1 tbsp. red curry paste

Add the potatoes and chicken stock to the pan and bring to boil. Now turn the heat down and simmer for 10-15 minutes until the potatoes are tender. Take the pan off the heat and blend the soup in a food processor or with a hand blender until smooth.

17.5 oz. 500g potatoes, peeled, chopped,

4 cups 1 litre of chicken stock

Now, return the soup to the pan.

Add the sweet potatoes and coconut milk and bring to a boil. Add the chicken to the soup and cook for 15 minutes until the sweet potatoes are tender, stir occasionally.

¾ cup 180ml coconut milk, can,

2 chicken thighs, skinless, boneless, chopped,

17.5 oz 500g sweet potatoes, peeled, chopped

When ready to serve, add in the fish sauce and lime juice. Serve with chili flakes and freshly chopped coriander.

2 tbsp. fish sauce,

1 lime, juiced,

chili flakes, to serve,

4 tbsp. coriander, chopped, to serve
Video
Notes
Estimated Nutrition/Serving
392 cal
13g fats
53g carbs
19g protein
1g fibre
👩🏻‍💻 Rate My Recipe
Please scroll to the bottom of this page and rate my recipe. Let me know your thoughts in the comments section. Did you try it? Was it easy to make for you? Did you make any substitutions or changes? I would love to hear about it.

And if you liked it, get more recipes through the buttons below.
---
No time to cook. Get my ebook!
All recipes take 20 minutes or less. Includes a simple 7-day meal plan, nutritional information and a MFP barcode for every recipe. BONUS: workouts included!