High-Protein Crustless Quiche
This high-protein crustless quiche is da bomb! One of my favourites to make because it is easy, quick, and oh so delicious.
Sun-dried tomatoes and three different types of cheese including feta. We all know everything is betta with feta. Right?
This recipe is perfect for breakfast or as a main dish. It's meal-friendly too.
If you are on a gluten-free, low-carb or vegetarian diet, you definitely want to try this recipe. This high-protein crustless quiche has 18 grams of protein per serving with only 9 grams of carbs.
Is Quiche a Casserole or a Pie?
Quiche is a pie!
A casserole is a dish in which food, such as stew, is generally baked with a lid. A pie is a food not baked with a lid. So basically, one of the big differences is that one has a lid and the other does not.
Both quiches and casseroles can be made from various foods that include meats and vegetables. We often think of pies as a dessert but casseroles can be desserts too.
Check out these 20 Dessert Casserole recipes that are absolutely yummers.
High-Protein Crustless Quiche Recipe Video Tutorial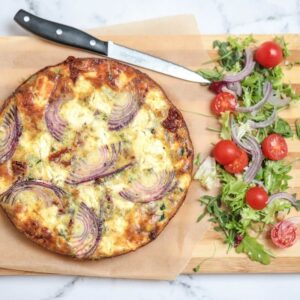 High Protein Crustless Quiche
This crustless quiche is fantastic for anyone that is gluten-free or low-carb. Very simple to make and meal-plan friendly too. If you are a fan of sun-dried tomatoes and feta cheese, you have got to try this. It's oh so delicious!
Ingredients
4

tsp.

olive oil

1

red onion

diced

1

zucchini

finely chopped

salt & pepper

1

tsp.

garlic granules

1

tsp.

Herbs de Provence

6

eggs

4

tbsp.

cottage cheese

2

tbsp.

fresh parsley

chopped

½

cup

30g sun-dried tomatoes

chopped

1

cup

115g feta cheese

crumbled

2

tbsp.

Parmesan cheese

grated

½

red onion

sliced to garnish
Instructions
Preheat the oven to 350°F (180°C) and grease a pie dish with 1 teaspoon of olive oil.

Heat the remaining 3 teaspoons of olive oil in a pan over a medium-high heat and sauté the red onion and zucchini for 3-4 minutes.

Season with salt and pepper and add in the garlic granules and herbs.

Stir through and continue to cook for a further 3-4 minutes until soft, then set aside to cool slightly.

Break the eggs into a large bowl and add the cottage cheese, whisk until combined.

Next stir through the parsley, sun-dried tomatoes and cooked vegetables.

Transfer the mixture to the earlier prepared dish.

Sprinkle over the crumbled feta cheese and Parmesan and garnish with sliced red onion.

Place the dish in the hot oven and bake for 40 minutes or until set.

Once baked, set aside to cool for 5 minutes before slicing and serving.
Notes
Estimated nutrition:
284 kcal
20g fat
9g carbs
19g protein
2g fibre
Please rate this recipe below. Did you make any modifications or ingredient substitutions? Tell us about it. 😊