Easy & Zesty Turkey Salad (From Thanksgiving Turkey Dinner Leftovers)
Welcome to the Turkey Salad Extravaganza, where we transform Thanksgiving turkey leftovers into culinary masterpieces. 🤣
Grab your apron and let's embark on this gastronomic journey together. Get ready to chop, mix, and savour your way through a delightful turkey salad creation. This salad bowl will be the happiest place on your dinner table!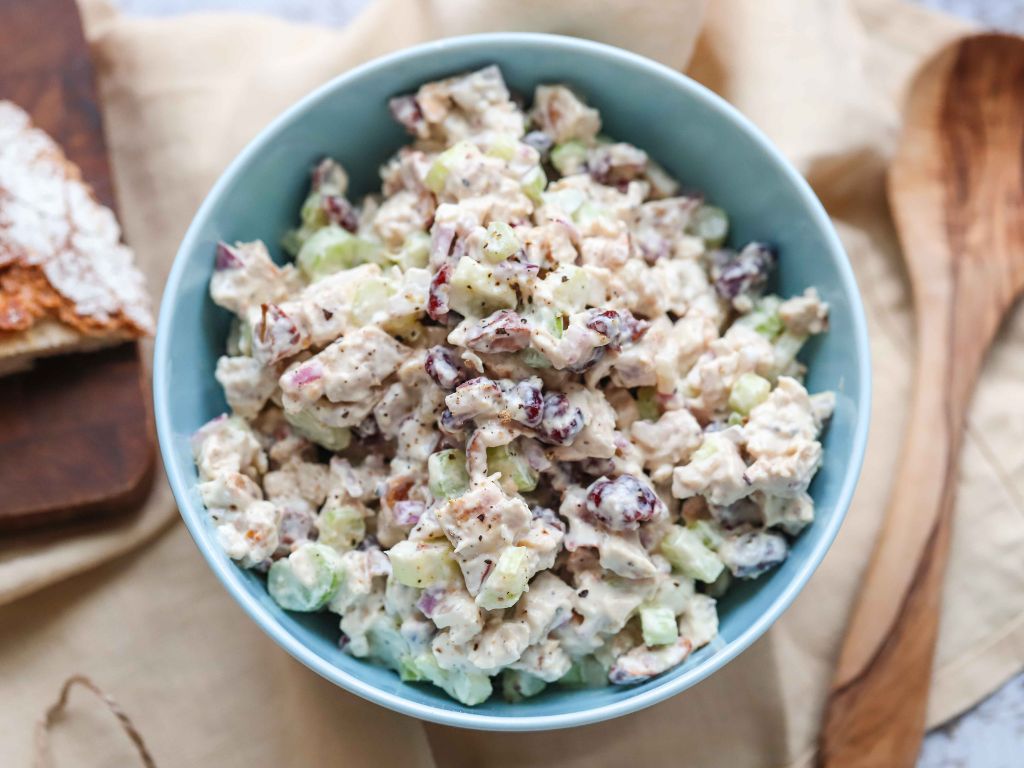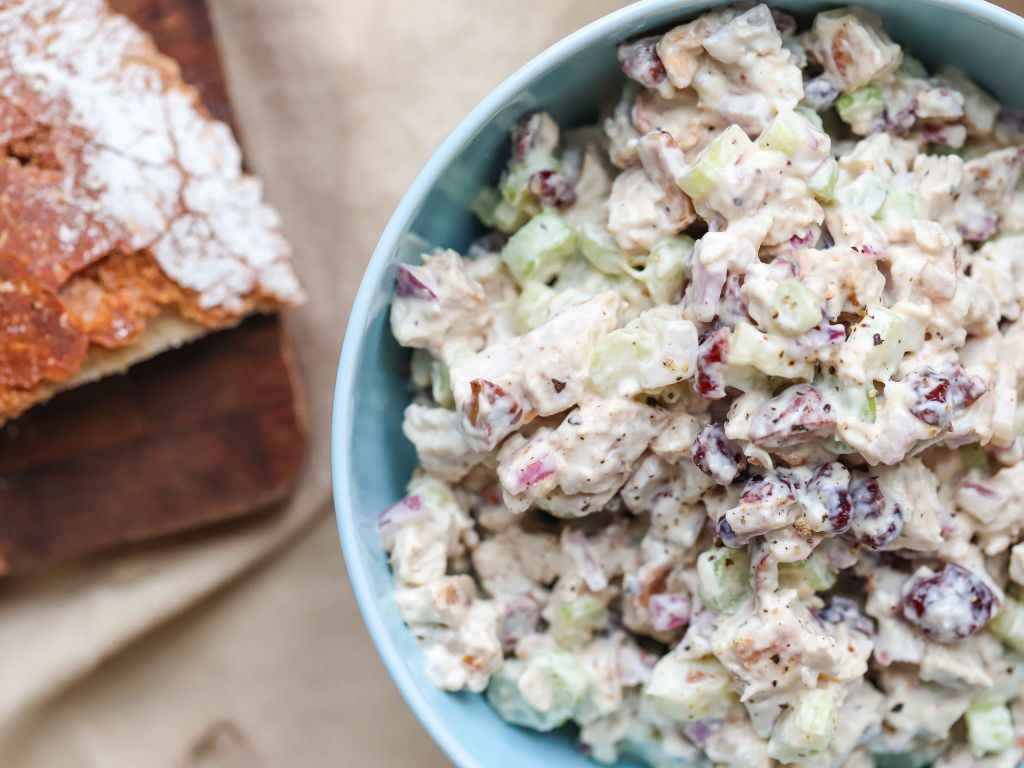 Ingredient Substitutes for this Turkey Salad
Cooked Turkey Breast: Can be substituted with shredded rotisserie chicken, leftover roast chicken, or tofu for a vegetarian option.
Celery Stalks: Replace with chopped green bell pepper, cucumber, or jicama for a crunchy texture.
Red Onion: Swap with shallots or sweet onions for a milder flavor, or use scallions for a subtle onion taste.
Dried Cranberries: Substitute with raisins, chopped dried apricots, or pomegranate seeds for a burst of sweetness.
Roasted Almonds: Use roasted walnuts, pecans, or sunflower seeds for a different nutty crunch.
Mayonnaise: Replace with Greek yogurt, sour cream, or mashed avocado for a lighter, healthier option.
Greek Yogurt: Can be substituted with buttermilk, kefir, or regular yogurt for a creamy texture.
Lemon Juice: Swap with apple cider vinegar or white wine vinegar for a tangy kick.
Dijon Mustard: Substitute with honey mustard or spicy brown mustard for varied flavors.
Salt and Pepper: Adjust according to taste preferences, and consider using garlic powder, paprika, or chili flakes for added seasoning dimensions.
Feel free to experiment with these substitutions based on your dietary and taste preferences. Keep in mind that substitutions may affect the final taste and texture of the salad.
If you have another suggestion or need help to substitute any other ingredient, please post in the comments section.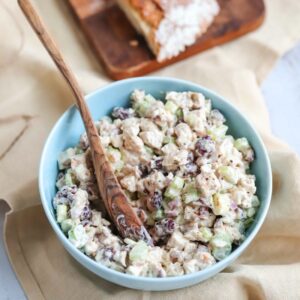 Turkey Salad
This is the superhero of lazy cooks everywhere! 🤣 Take 10 oz of turkey, sprinkle in some diced red onion, chopped celery, cranberries, and roasted almonds. Then, get saucy with mayo, Greek yogurt, lemon juice, and Dijon mustard. Mix it all like you're dancing in the kitchen. Season to taste, and voilà! You've just created a high-protein masterpiece. Serve it with leaves, slap it in a wrap, or sandwich it – your call. And fear not, if you overestimate your turkey needs, this salad's got your back for 3-5 days in the fridge.
Ingredients
10

oz.

280g cooked turkey breast, chopped

2

celery stalks

chopped

1

red onion

diced

½

cup

60g dried cranberries, unsweetened

½

cup

70g roasted almonds, chopped

4

tbsp.

mayonnaise

4

tbsp.

Greek yogurt

1

tbsp.

lemon juice

2

tsp.

Dijon mustard

salt and pepper
Instructions
Place all the ingredients in a large bowl, season with salt and pepper and mix until well combined.

Serve the salad immediately with salad leaves, in a wrap, or in a sandwich.

Store any leftover salad in an airtight container in the fridge for 3-5 days.
Video
Notes
⭐️ Estimated Nutrition/Serving ⭐️
350 cal
20g fats
17g carbs
26g protein
3g fibre
👩🏻‍💻 Rate My Recipe
Please scroll to the bottom of this page and rate my recipe. Let me know your thoughts in the comments section. Did you try it? Was it easy to make for you? Did you make any substitutions or changes? I would love to hear about it.

And if you liked it, get more recipes through the buttons below.
---
Want yummy & healthy recipes to help you lose weight?
Try my simple 7-day meal plan with 15 recipes, nutritional information and a MFP barcode for easy calorie and macro tracking. BONUS: 28-day movement challenge included!