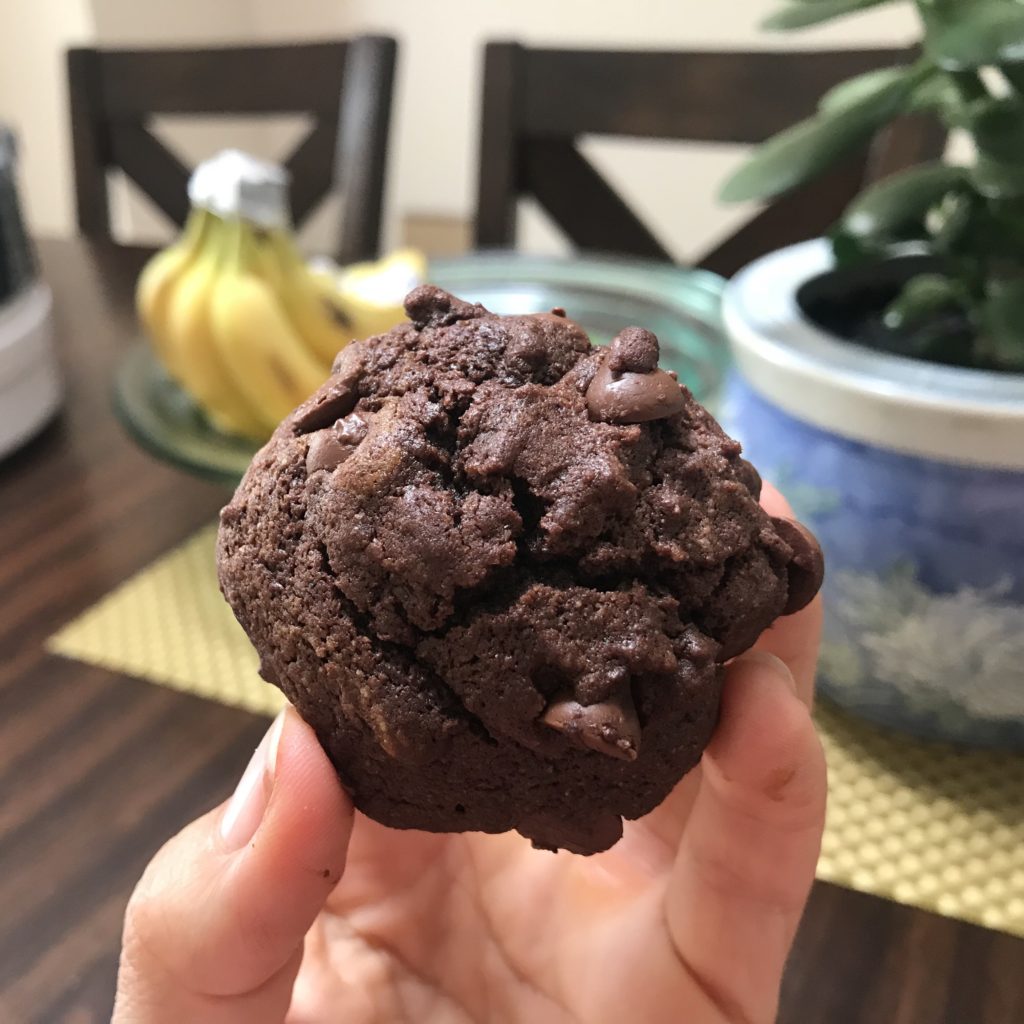 Double Chocolate Chip Cookie
Baking makes me happy, especially when I make a homemade double chocolate chip cookie that tastes yummy and is packed with nutrition. I have a knack for taking a recipe and improving its nutritional value. The trick is simple – I change up the ingredients.
Instead of using refined white flour, I use a mix of sprouted rye and spelt flours that come from Anita's Organic Mill in British Columbia.
For the cocoa powder, I prefer to use Rodelle Organics Baking Cocoa.
Conventional eggs are replaced with Rabbit River Farms eggs from Alberta. I use grass-fed butter instead of margarine.
I ditched using white refined white sugar a long, long time ago. In this recipe, I use Uncle Luke's Organic Very Dark pure maple syrup from Quebec.
My favourite vanilla extract is by Simply Organic. I always use Camino chocolate chips as they taste so damn good.
COOKIES CAN BE A PART OF A HEALTHY DIET
There isn't a single ingredient in this cookie that does not provide my body with some sort of nutrient.
There's a huge misconception that to eat healthily you must give up everything you love. Untrue! You just need to learn how to make the things you love using wholesome ingredients that nourish your body.
If you compare the nutrition values of refined white flour to spelt flour, you will see the difference. There is more protein and fibre in spelt flour. I use sprouted spelt four because I find it easier to digest.
To be honest, I am a cookie monster. It's a quick and healthy snack to grab for my busy lifestyle. I also take them on bike rides and hiking trips to keep energy levels topped off. Trust me, these taste way better than those gag-me CLIF BARS.
Of course, you always have to practice the "rule of moderation." Unfortunately, there is such a thing as eating too many cookies. Damn it! 🤣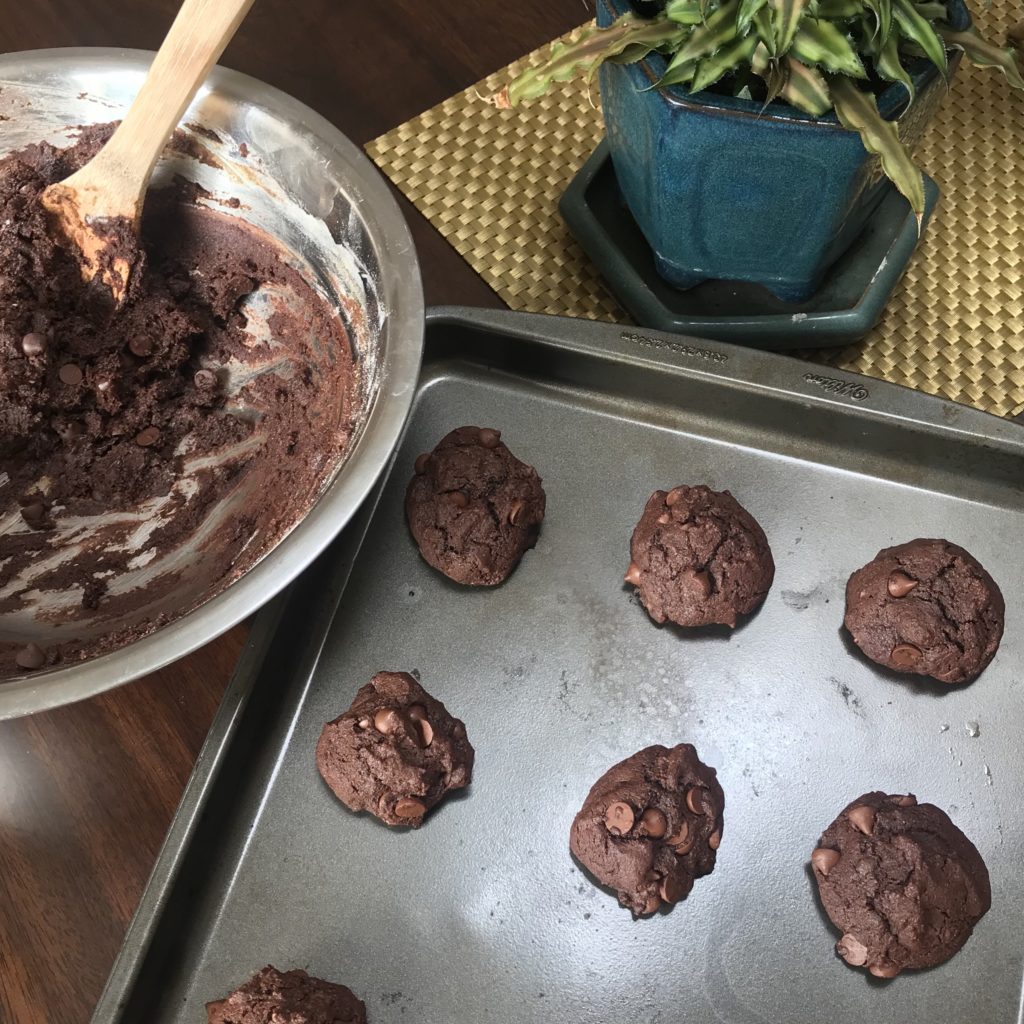 WANT MORE HEALTHY RECIPES?
🔥 If you like this recipe, check out my Easy and Healthy Carrot Cake with Cream Cheese Frosting by clicking here.
🔥 Want easy and healthy free recipes delivered to your inbox? I send out free and fun-themed recipe ebooks to my subscribers such as grain-free breakfasts, Vegan desserts, low-carb lunches, and so on. Sign up here and instantly receive a free copy of my 20 Post-Workout Protein Snack Recipes.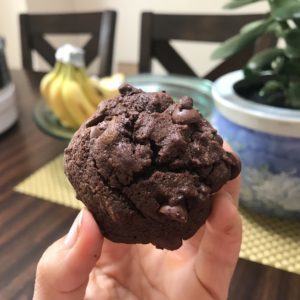 Double Chocolate Chip Cookie Recipe
This is an easy double chocolate chip cookie recipe that is also packed with nutrient-rich wholesome ingredients. I don't use a machine for any of this. Just two bowls, measuring cups, a wooden spoon, and some muscles.
Ingredients
2

cups

sprouted flour

½

cup

cocoa powder

1

tsp

baking soda

1

tsp

sea salt or pink Himalayan salt

½

cup

coconut palm sugar

⅔

cup

pure maple syrup

1

cup

soft butter

2

tsp

vanilla extract

2

eggs

1

cup

organic chocolate chip cookies
Instructions
Preheat oven to 350 F.

In one bowl, mix the sugar and soft butter together until creamy. Add the two eggs and mix in. Then add the vanilla. Give a good stir.

1/2 cup coconut palm sugar,

1 cup soft butter,

2 tsp vanilla extract,

2 eggs,

2/3 cup pure maple syrup

In another bowl, sift together the flour, cocoa powder, baking soda, and salt.

2 cups sprouted flour,

1/2 cup cocoa powder,

1 tsp baking soda,

1 tsp sea salt or pink Himalayan salt

Add the dry ingredients to the wet ingredients and mix until blended. Stir in your chocolate chips.

1 cup organic chocolate chip cookies

Using a tablespoon, scoop up some cookie dough and place the blobs on the cookie sheet.

Bake for 10 minutes. Allow them to cool for 1 minute. Remove from cookie sheet.
Notes
Here are some other options you can try.
You can choose your favourite sprouted flour or use a mix of rye, spelt, or buckwheat. Buckwheat is naturally gluten-free but has a distinctively different flavour.
If you want to use all maple syrup, the amount is 1 cup in place of the total sugar stated in the recipe. If you want to use all coconut palm sugar, the amount is 1.5 cups in place of the total sugar stated.
If you don't want a double chocolate chip cookie recipe, just omit the cocoa powder. Let the dough sit for a few minutes to thicken. If you find that it's a bit soft without the cocoa powder stir in a little more sprouted flour, about 1 – 2 tablespoons.
Please rate this recipe below. Did you make any modifications or ingredient substitutions? Tell us about it. 😊