Double Chocolate Chip Cookie Recipe
by Coach Tammy Slauenwhite
Baking makes me happy, especially when I learn how to make unhealthy things healthy that also taste freakin' yummy, like my Double Chocolate Chip Cookie. The trick is simple – change up your ingredients.
For example, my double chocolate chip cookie is made with all organic ingredients, most of which come from Canada.
Instead of using refined white flour, I use a mix of sprouted rye and spelt flours which come from British Columbia. I use grass-fed butter instead of margarine. Conventional eggs are replaced with free range from Alberta. I ditched the refined white sugar a long, long time ago and in it's place, I use pure dark maple syrup from Quebec.
There isn't a single ingredient in this cookie that does not provide my body with nutrients.
There's a huge misconception that to eat healthy, or when trying to lose weight, you must give up everything you love. Untrue! You just need to learn how to make the things you love using wholesome ingredients that nourish your body instead of breaking it down.
If you look at the nutrition value of the flours alone, from refined white to organic sprouted rye or spelt, you will see a vast difference. Your body recognizes this.
Of course, you always have to practice the "rule of moderation." Unfortunately, there is such a thing as eating too many healthy cookies. Ha!
Anyway, below is my recipe. Try it and let me know how it goes in the comment section below. You won't be disappointed!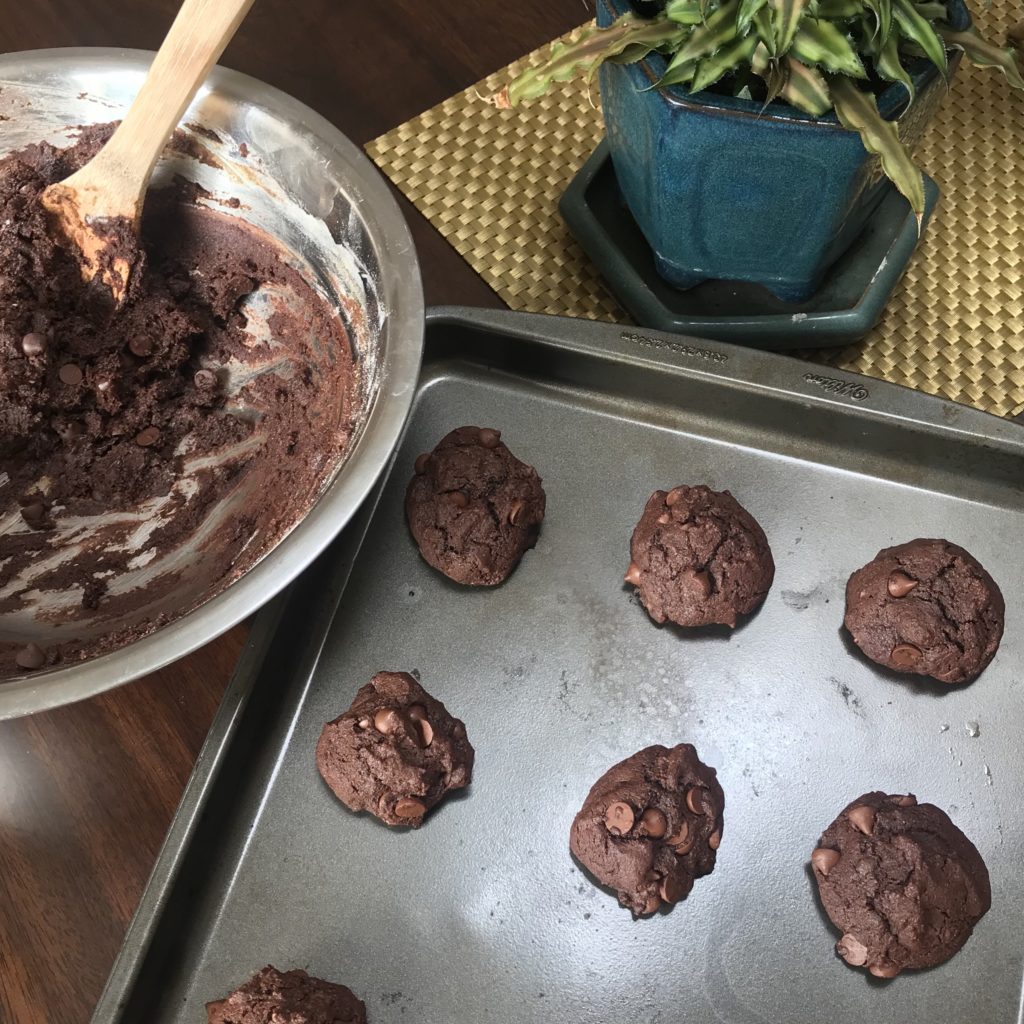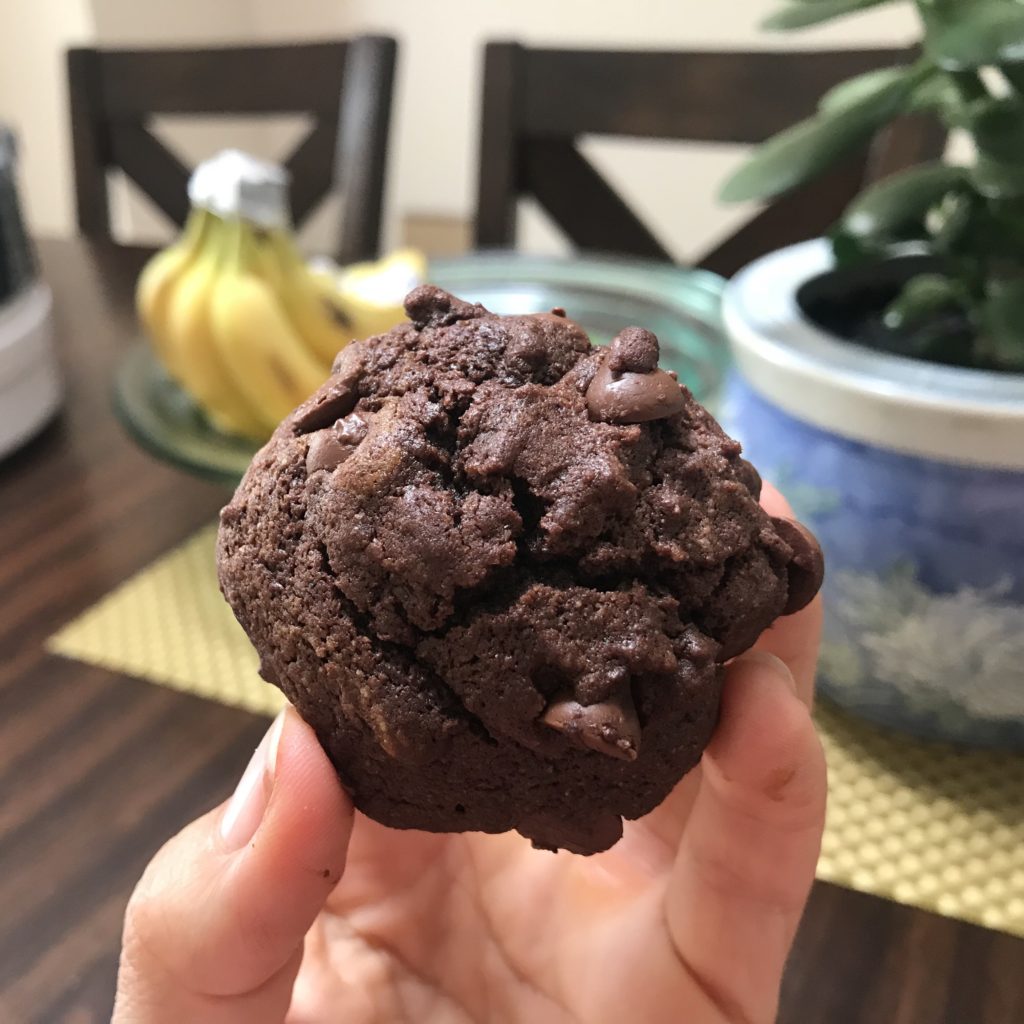 DOUBLE CHOCOLATE CHIP COOKIE RECIPE
This recipe makes 3 dozen delicious cookies.
INGREDIENTS
2 cups of sprouted flour*
1/2 cup of cocoa powder
1 tsp baking soda
1 tsp sea salt or pink Himalayan salt
1/2 cup of coconut palm sugar**
2/3 cup of pure maple syrup**
1 cup of soft butter
2 tsp vanilla extract
2 eggs
1 package of organic chocolate chip cookies (or 1 – 2 cups, depends on how much you love chocolate).
* you can choose your favourite sprouted flour or use a mix of rye, spelt, or buckwheat. Buckwheat is naturally gluten free but has a distinctively different flavour.
** if you want to use all maple syrup, the amount is 1 cup for total sugar. If you want to use all coconut palm sugar, the amount is 1.5 cups for total sugar.
DIRECTIONS
So easy! I don't use a machine for any of this. Just two bowls, measuring cups, a wooden spoon, and some muscles.
Preheat oven to 350 F.
In one bowl, mix the sugar and butter together until creamy. Add the two eggs and mix in. Then add the vanilla. Give a stir.
In another bowl, mix the flour, cocoa powder, baking soda, and salt.
Add the dry ingredients to the wet ingredients and mix until blended. Stir in your chocolate chips.
Using a tablespoon, scoop up some cookie dough and place the blobs on the cookie sheet.
Bake for 10 minutes. Allow them to cool for 1 minute. Remove from cookie sheet.
Eat. Smile!
NOTE: if you don't want a double chocolate chip cookie recipe, just omit the cocoa powder. Let the dough sit for a few minutes to thicken. If you find that it's a bit soft without the cocoa powder stir in a little more flour, about 1 – 2 tablespoons.
PRODUCTS USED FROM SOME OF MY FAVOURITE SUPPLIERS
Sprouted flours – Anita's Organic Mill
Cocoa powder – Rodelle Organics Baking Cocoa
Maple syrup – Uncle Luke's Organic Very Dark
Eggs – Rabbit River Farms
Vanilla extract – Simply Organic
Chocolate chips – Camino
If you like this cookie recipe, you should also check out my Carrot Cake Cookie Recipe.