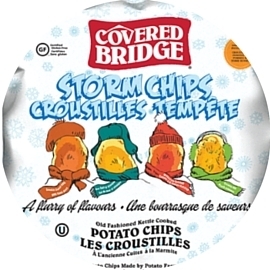 Storm Chips Made by Covered Bridge – Review
Storm Chips, in case you don't already know, is a real thing! Covered Bridge makes their very own Storm Chips from "a flurry of flavours." Since it's storming outside, and I happen to have some Storm Chips made by Covered Bridge, I'm gonna tell ya what I think about them.
I'm a bit of a "chip connoisseur" (also a thing). I like to try different brands, textures, and flavours and do comparisons. I'm also curious about the potato chip maker too, not just the potato chips. I wanna know who made them, where are they located, what's their history, what do they stand by and represent, where do they get their ingredients, and so on.  One thing for sure, being a chip connoisseur makes for some pretty interesting convos.
Anyway, Covered Bridge won me over as soon as I discovered them in the grocery isle. Here's what I absolutely love about Covered Bridge and their old fashioned kettle cooked potato chips:
They are made in New Brunswick, "just down the road from the Longest Covered Bridge in the World."
It's a family operated business founded on the basis of an old family tradition of potato farming.
They use a dark russet potato, which is mega delish, which helps them to rise above many other potato chip brands.
There are no preservatives, artificial colours, artificial flavours, trans fats, and they are gluten free. (That was a mouthful!)
They have THE best tasting Sea Salt & Vinegar potato chips, ever!  Nom-nom until the bag is gone!
Okay, so what about Storm Chips, specifically?  Here's the low-down:
They come in a big bag! 284 grams, aka 10 ounces.
They have FOUR DIFFERENT FLAVOURS within:  Smokin' Sweet BBQ, Sea Salt & Vinegar, Homestyle Ketchup, and Creamy Dill.
They are perfect to share with family or friends who have different tastes.  Everyone wins!
But, before you go out and stock up on Covered Bridge's Storm Chips, make sure that you are prepared to have your taste buds challenged.  Eating different flavoured chips back-to-back (or I should I say chip-to-chip) makes for an adventurous chow-down. I found it hard to identify the chips flavour within the bag so each bite was a surprise. Eating the chips from a bowl where you can see the colour of each chip would be a better way to identify each flavour, especially for picky chip eaters.
So there's the low-down on the Storm Chips made by Covered Bridge. They only thing I wish is that they were organic, but I can't always have it my way. Besides, their list of ingredients is much better compared to generic brands. Would I buy Storm Chips by Covered Bridge again? Damn straight!
If you want more info on Storm Chips made by Covered Bridge, or info on all their other fun flavours, click the bag below. Happy chopping!
BLOG UPDATE FEB 3, 2016 – I guess I should do my research first! Apparently there is a labour issue happening with Covered Bridge and it's workers. I do not know enough to comment but here is what I found AFTER my blog was written and posted. CLICK HERE to read the report.