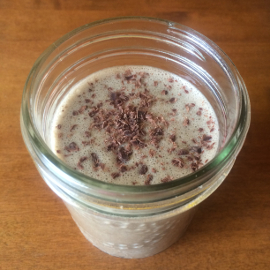 Peanut Butter Chocolate Banana Smoothie Recipe
Do you like peanut butter? Chocolate? Bananas? Then this recipe was made for you – the Ultimate Peanut Butter Chocolate Banana Smoothie.
It is high in vitamins, minerals, protein, fibre, and fat making it the bomb breakfast smoothie or post workout smoothie. I use organic and/or local ingredients whenever possible.
Feel free to make substitutions, omissions, and additions to your liking.  For example, you can use yogurt instead of kefir, omit the raw egg, or add 1/2 an avocado.  FYI – that's dark chocolate I shaved on the top.
Peanut Butter Chocolate Banana Smoothie
1 banana
1/4 cup plain kefir
1 scoop chocolate hemp protein powder
1 raw egg
1/2 tsp pure maple syrup
1 tsp sunflower seeds
1 tbsp smooth 100% peanut butter
Top off with a milk of your choice. You can use cows milk or almond, coconut, hemp, etc.  If you want an even creamier smoothie, do half-and-half milk with cream.  Blend well. Shave chocolate on the top.
The bonus of this smoothie is it has enough nutrition and calories to fuel you for hours AND because of the protein, fat, and fibre content, it will last a long time in your belly. Protein, fat, and fibre help to slow digestion, making you feel fuller longer, helping to reduce overall daily calorie intake and reduce cravings.  Yay!
If you make my recipe as described above, let me know if you enjoyed the smoothie. If you made modifications, let me know what you changed and how it turned out.  Share your ideas. I'd love to hear about it.
Eat well, live well!