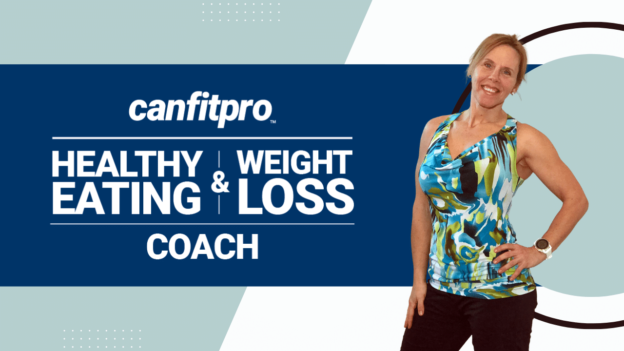 canfitpro Healthy Eating & Weight Loss Coach (HWL) certification course is a live 8-hour virtual course.
This Zoom meeting is for Day 2/3. Learn more about this course below.
COURSE DETAILS
TYPE 3-Day Virtual Course on Zoom
DATES: October 17, 18, and 19
TIME: 6 – 9 PM MST // 5 – 8 PM PST // 8 – 11 PM EST // 9 – 12 PM AST
If you're considering launching a career in the wellness industry, the HWL certification is a great place to start. Nutrition information is constantly evolving. This program helps you to communicate healthy eating fundamentals and the value of regular activity to clients.
If you're already a fitness professional, imagine going deeper with clients to offer healthy eating tools. Think about the difference you'll make in their results. Consider the extra revenue stream you can create with this additional service.
This virtual course includes instruction with a PRO TRAINER (me), a self-directed online education, a course manual, and a 3-hour theory exam that you take at home on your own time.
After successfully completing the certification you receive a full HWL Tool Kit with the resources to successfully work through your first sessions with clients.
Learn more about the canfitpro Healthy Eating & Weight Loss Coach certification and how it can benefit you here.
If you need more information about my specific HWL course, please send me an email or post in the comments below.
What My Students Say
"I took the HWL virtual course with Tammy and she was AMAZING. Not only did she go over everything we truly needed to know to become a great HWL coach, but she provided sooo many helpful tips on how to get started/her process from the business side. I'm so thankful I took her course, I felt so much better about my abilities as a coach after doing the course with her! Thank you, Tammy!" ~ C.G.
"Very knowledgeable, went above and beyond! I completed my Healthy Weight Loss Coach with Tammy Slauenwhite and it was an amazing experience. Tammy is very knowledgeable and personable, we learnt so much but we also had an awesome time doing it. I really enjoyed how she made it feel personal to us and answered any questions we had with ease. I would definitely recommend Tammy and I would 100% take a course taught by her in the future!" ~ Shannon Moores
Read more course reviews here.