Description
PLEASE NOTE: the free trial for this program has expired.
Build Glute Strength is a 6-week program designed to build glute strength effectively and safely using structured workouts through a progressive sequence. This is a PERFECT cross-training program for endurance athletes to help them run and ride stronger. Endurance athletes often struggle with hip issues, whether it be with limited mobility or weaknesses. This program will help to correct these issues.
We start with foundational work, using only our body weight in the first week. Then in the second week, we begin to progressively overload the body by incorporating dumbbells. As you move along through the plan, week by week, we gradually increase the intensity of the workouts to build strength by using various training principles and techniques. The final workout in this series will be much more challenging than the first one, so be sure to follow the plan in sequence so you don't overload too much too soon.
NEW: beginners now have a separate training calendar to follow that better guides them through the program. A one-time payment gives life-long access as long as you own your account, no matter how many upgrades, workouts, and new training calendars I upload.
Scroll down to see the 6-week storyboard and sample materials.
What are the glute strength exercises?
The program consists of bodyweight and dumbbell strength training exercises for the lower body. I demonstrate various forms of the squat, deadlift, lunges, bridges, and exercises to target hip stabilizers. We start with bodyweight in the first week and then from weeks 2-6, we use mainly dumbbells. I incorporate different rep schemes to maximize your efforts as we progress.
Who can take Build Glute Strength?
This program is best suited for those with prior lifting experience. If you are a beginner and wish to take this program, you can use the Beginner Training Calendar included. This program requires the ability to lift, squat, hinge, get down and up off the floor with no major complications. If you have medical issues or extremely limited mobility, please speak to your doctor about this program before making a commitment.
Attention runners, cyclists, and triathletes – this program is EXCELLENT for cross-training. It is not uncommon for endurance athletes to have weak glutes, especially the gluteus medius. Building strength in the gluteal muscles helps to create balance and enhance performance in athletes with weak glutes. This program would make a nice compliment to any of my TrainingPeaks plans for endurance athletes.
Equipment required?
dumbbells, preferably a large range (I use 5lbs to 40 lbs in the videos)
a safe place to work out in your home
dedication
What's included?
training calendars to print and follow along
workout videos to guide you AT HOME
download training templates, guides, and more
training tips and email support
members comment section below each workout video
email notifications to keep you motivated (option to turn them off)
highly organized and user-friendly platform
personal profile to track your progress
resume to where you left off by the click of a button
earn points and a certificate once completed
NOTE: This program is NO LONGER FREE and access is gained through the GO FIT LIFE PROJECT membership program.
Program Storyboard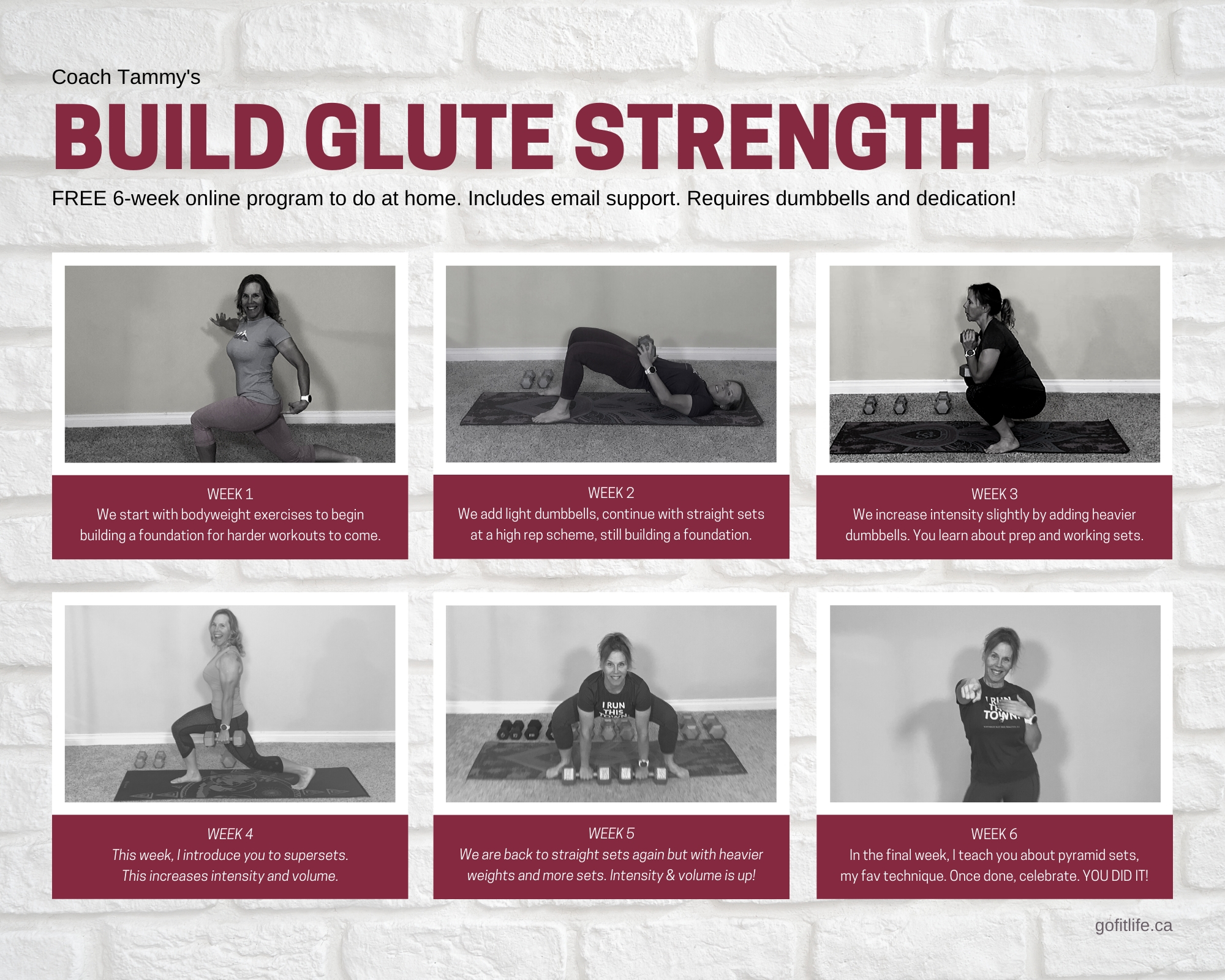 Build Glute Strength is reusable!
That's right! You can reuse this program again once you complete the first round. It comes complete with support materials to organize and track your progress as well as a 6-week sample training calendar. All these materials can be download to your computer and printed as often as you like. There is a guide that tells you how to reuse the program to get maximum results.
NOTE: To ensure you get my program notification updates, please make sure you add my email to your address book and sign up for my newsletter.
After reading these exciting details, if you have questions about this program, send me an email. I'd love to hear from you.
Coach Tammy Lee ✌️