I
♥ TRAIL RUNNING!  
Yup, I'm a bit excited. I got these new trail running shoes = back into trail running, once again. Yipee! I'm now living in Fort McMurray, Alberta, and there are a ton of trails to run and explore. These new shoes are going to bring me a lot of joy.
Now, let's get on with the of the Salomon XT Taurus trail running shoe review.
Here's a video I made pre-first run in the new shoes.
[youtube link="https://www.youtube.com/watch?v=H9hPgRoR-3E" width="600″ height="420″]
After clocking several miles in the Salomon XT Taurus trail running shoes, I will post a second video update and let you know how they are performing.
Some features of this trail running shoe are:
Surprisingly, the trail shoe is lightweight. While it's definitely not the lightest on the market, for my size 6 shoe, it weighs in at 1.01 lbs (about 16 ounces or 458 grams). I should have cleaned the shoes up more before I weighed them but that little bit of dirt wouldn't make a big a difference.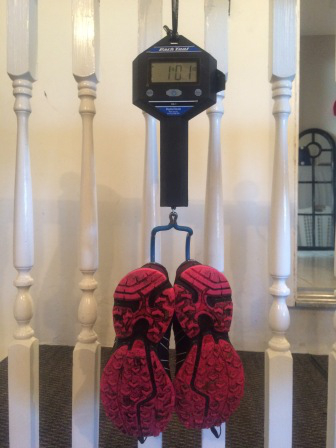 Notice the wide toebox? That's perfect for me as I have a wide foot. The shoes do run about .5 to 1 size larger. I usually take anywhere from a 6.5-7 size shoe but I had to get a size 6 in the Salomon XT Taurus. I still have lots of toe room too, so no worries about losing any nails from longer runs. Yay!
The shoe has a "plate" that runs up along the outside of the shoe that gives added stability. Mark (the shoe expert) at Atmosphere in the Peter Pond Mall (Fort McMurray) gave me some super detailed information about the shoe. (Pssst…he's a very knowledgeable guy and I highly recommend you see him when buying a shoe from that store.)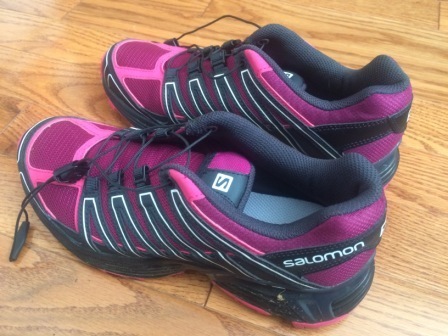 The Salomon XT Taurus has a great fit, with a narrow hugging heel that helps prevent heel slip. It felt weird at first but after doing a run in them, I totally felt the benefit.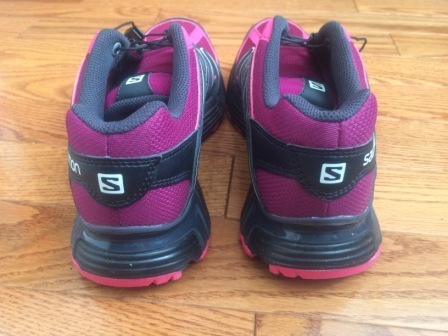 I can be clumsy sometimes, especially when I get tired (or daydream) and so I am loving the rubber toe protection on these shoes.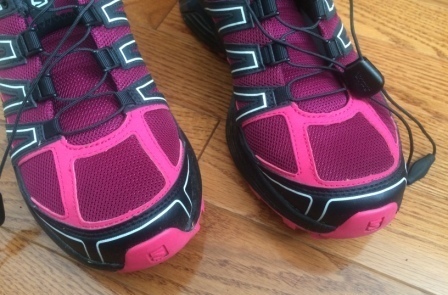 The mid-sole is very comfortable. A great asset, of course. Who wants to run in an uncomfortable shoe, right?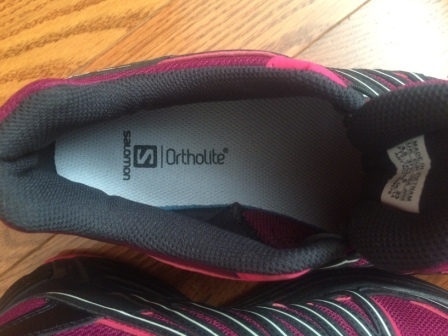 One of my favourite features is the cute little pocket at the top of the tongue so I can tuck in my Sensifit laces.  The Sensifit lacing system is awesome, as I can choose where I want my laces to be tighter or looser and create my own style of comfort. Every foot is different!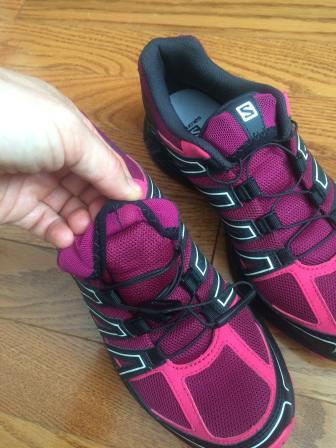 Another thing I love about these shoes is how easy the mud clears from the tread.  Now, I've only done a few runs in the shoes so far, but I'm hoping this is a feature that holds up. The grip was pretty sweet when climbing up and down the hills too.
So far, I have 10.6km on my Salomon XT Taurus trail running shoes. I'm super pumped to see how these hold out over the next year. Stay tuned for another update after I clock some good solid miles on these sweet sneaks.
To learn more about Salomon running shoes CLICK HERE to visit their website.
So tell me, what are you currently running in?  Feel free to post below.
Happy trail running!